10 Things We Learned From NWA Worlds Champion Nick Aldis (Exclusive Interview)
9. He's Writing A Book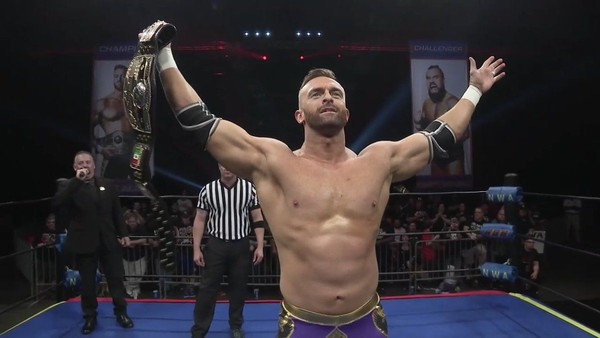 In recent months, wrestling fans have been spoilt by a couple of brilliant reads in the form of Bertrand Hébert and Pat Laprade's The Eight Wonder of the World: The True Story of André The Giant, and Jim Ross' Slobberknocker follow-up, Under the Black Hat. And right now, Nick Aldis is likewise at work on a new book.
Currently with the working title of Ten Pounds of Bold, Aldis is looking to detail the journey taken by himself and the National Wrestling Alliance over the past couple of years.
Penning the book during these most unique of times we're living in, Nick explained, "As of now, the book will be covering the tail end of my TNA career and just sort of setting the table of where I was at in my life and in my career prior to the NWA opportunity coming up. And then basically [it's] a book covering this crazy two or three-year journey where we took this brand from a punchline to a headline."
On certain topics Ten Pounds of Bold will cover, Aldis added, "There's a lot of stuff where I'd really like to go into the weeds and explain the whole thing, particularly the whole situation leading up to All In with Cody - how my friendship with Marty opened this door here, then Cody started sniffing around, then working with the Bucks, then branching off into a wider relationship with Ring of Honor. It'll be a fun story of reinvention and resurrection of both my career and the NWA brand, because we're very symbiotic in that respect. The NWA really revitalised and resurrected my career in the same way that I revitalised and resurrected the NWA. Somehow, in this sort of weird serendipitous sort of collection of circumstances, we were perfect for each other."