10 Times WrestleMania Genuinely Surprised Us
9. Bad Bunny Steals The Show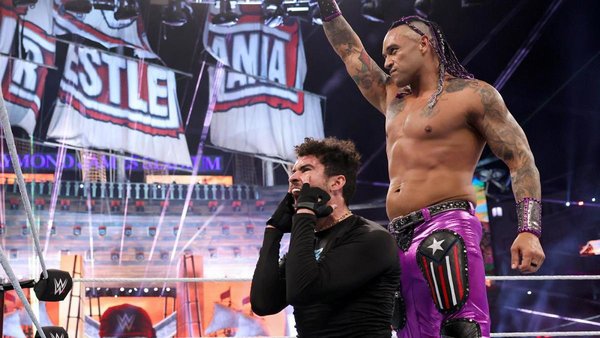 While there have been more impressive celebrity performers (Logan Paul) and more fitting ones for the combat arena (Floyd Mayweather Jr.), none have had the simultaneous feel-good and shock factor as Bad Bunny, arguably the standout turn at WrestleMania 37.
That sounds like an exaggeration, and it is, but at the same time, it isn't. Teaming with Damien Priest against The Miz and John Morrison, Bunny was the perfect happy wrestling story. For all their sniffiness, WWE fans will embrace a celeb if they throw themselves into it, and the Puerto Rican musical sensation did that and then some. For the lifelong wrestling fan, this was a dream come true.
The Canadian Destroyer grabbed the headlines, but the whole performance was remarkable stuff. Bunny was fundamentally sound, charismatic, and (as a scrawny man among jocks) somehow relatable despite his otherworldly qualities.
Massive props must go to Miz and Morrison for going out of their way to put Bad Bunny over. WrestleMania 37 was a risk all round, emerging from a pandemic-induced era of uncertainty, but the sheer quality of this silly celeb spot-fest was a joy.