10 Times Wrestling Fans Put Themselves In Harm's Way
9. The Guy Just Wanted To Be In The Shield...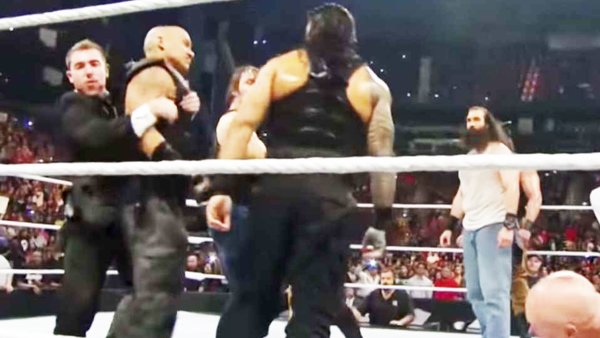 For the fan at the centre of this, all he wanted to do was be a part of the Shield for one night only.
While that faction had separated by that point in time, this fan came to the rescue at the 2015 Night of Champions PPV when Roman Reigns and Dean Ambrose were awaiting their mystery tag team partner for a match against the Wyatt Family.
Complete with full Shield-esque riot gear, one wannabe slid into the ring and briefly stood side-by-side with Reigns and Ambrose, while an amused Bray Wyatt poked fun at the duo's purported partner. Security would immediately step in, the fan would be removed, and it would then be revealed that a returning Chris Jericho was teaming with the Big Dog and the Lunatic Fringe on that night.
WWE later released a statement detailing how the fan in question would be "prosecuted to the fullest extent of the law", for which the spectator should count himself lucky. While all he wanted to do was stand up and support the Shield, he could so easily have gotten himself a beating when entering a ring featuring the hefty beef of Braun Strowman, Luke Harper, Bray Wyatt, Roman Reigns and Dean Ambrose.