10 Times Wrestling Finishers Passed The Torch
9. Sharpshooter - Bret Hart To Natalya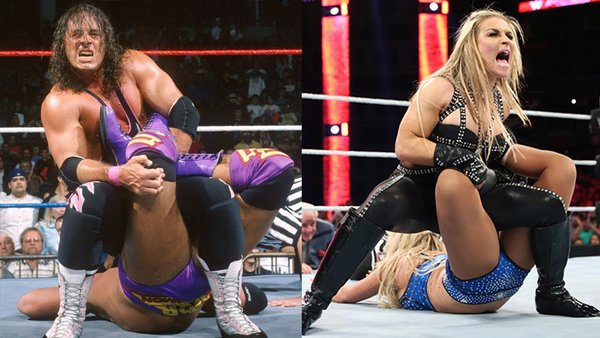 Some of the greatest names to ever step foot in the squared circle were forced to tap out to Bret Hart's Sharpshooter. Upon embarking on a singles career in the aftermath of WrestleMania VII, the Hitman took on the submission as his own - and it was a decision that proved wise, as that move alone won Hart numerous championships.
It wasn't just Bret Hart who'd utilise that move in WWE, mind, for his younger brother Owen would also end up adding the manoeuvre to his arsenal for several years.
More recently, it's Bret and Owen's niece Natalya who's been seen using the Sharpshooter as her finishing move on WWE programming. Nattie may not have had quite as much success as her uncles, but the move has often served the Queen of Harts well - with Natalya famously making both members of LayCool tap out to the move to become Divas Champion at Survivor Series 2010, and then tapping out Naomi at SummerSlam 2017 to become the SmackDown's Women's Champion.
There was no grandiose passing of the torch, per se, with the Sharpshooter, but more Natalya looking to continue the legacy of Bret and Owen.
Interestingly, Bret Hart was taught the Sharpshooter by Konnan, who had just started working for the then-WWF in 1991 as Max Moon - while Sting and Ronnie Garvin were the first people to frequent the move in North America.