10 Times WWE Mocked What Fans Hated
When WWE listens to its fans, it has Drew McIntyre squash Erick Rowan's spider...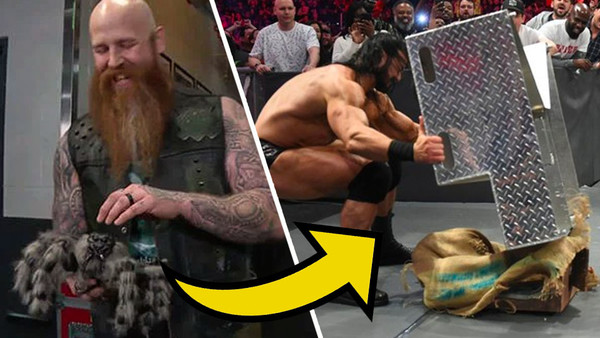 To Vince McMahon, WWE is all about the drama, moments, and trying to send fans home smiling. As the providers of the longest-running weekly episodic television show ever, WWE produces countless storylines focused on pitting bitter rivals against each other, and it has done so for decades.
With the company's longevity in mind - along with the seemingly endless hours of original content it produces each year - it is natural for the creative minds of WWE to swing and miss on occasion (or maybe more than just "on occasion").
While WWE may fail to connect with its fanbase at times (with ill-conceived gimmicks and clunky story arcs), it doesn't always shy away from its mistakes. Now, that doesn't mean the Chairman and the rest of the boys assume any fault or are necessarily going to fix the problems at hand, but it does mean that WWE might acknowledge its blunders every so often. Sometimes, it might even have wrestlers and on-air personalities parody them.
Sometimes this is done lightheartedly, while at other times, the mockery is delivered in a much more serious (and sometimes sinister) fashion...
10. Erick Rowan's Spider
Once the Wyatt Family disbanded, Erick Rowan had a hard time finding his way in WWE.
He served as Daniel Bryan's heater for a while, but his glass ceiling lowered further once they split. In an attempt to revive him in 2019, Rowan carried a cage everywhere he went. The bit played out for weeks, leading fans to doubt that it would ever pay off.
They were right to do so.
After leading the fans on for a while, Rowan unveiled the cage's contents to No Way Jose and company. "Don't you wanna see my friend?" the giant exclaimed as he strived to get a giant toy spider over. What little intrigue was left in the angle dissipated with the dull reveal. Rowan explained the idea was to garner sympathy from fans, and creative decided the Halloween prop was good enough.
Fans were far from impressed, and so was WWE.
One week later, Drew McIntyre had the privilege of destroying the cage, to which fans erupted. WWE could have gone forward with pushing Rowan's storyline, but instead, he was rarely used and soon released. The spider's destruction was WWE acknowledging a bad idea and putting it to rest, which the fans were more than excited to see when it happened.