10 Times WWE Went Too Far With Brock Lesnar
5. Zach Gowan's Stairway To Hell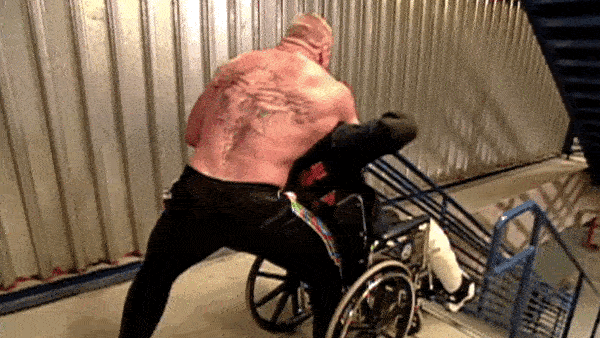 Zack Gowen had battled through enough in his life before briefly living out an unlikely dream as a WWE Superstar in 2003, but was a made an unfortunate victim by more than just the reckless booking that burned through his entire repertoire in a little over six months.
It was a genuinely miraculous story. As 'Tenacious Z', Gowen had made national news and caught the attention of the wrestling world at large with his array of moonsaults, flips and dive despite the potential impediment. After eventually joining WWE (but not before klutz Talent Relations goon John Laurinaitis signed a different one-legged wrestler), Gowan was thrust into a programme with a masked Hulk Hogan, himself engaged in an unending war with Mr McMahon.
After his amputation was played more for laughs than the pathos it probably should have commanded, Gowen was placed in a contest with Brock Lesnar in which 'The Beast' broke his other leg. Attempting to show McMahon how fierce he could be a week later, Lesnar whipped himself into a frenzy and pushed the wheelchair-bound Gowen down a flight of stairs in a terrifying visual.
Unable to protect himself from the steps hitting his face and the chair landing on him, Zack showed incredibly bravery in the face of Lesnar's legitimately frightening abuse. It's thankfully not a sight 2020's slightly more progressive WWE would elect to recreate.