10 Toughest Bastards In UFC History
"It's about how hard you can get hit and keep moving forward."
Clearly, to make it to the UFC in the first place you have to be a pretty tough nut.
Toughness comes in various different ways, of course. Sometimes it's about simply how many times you can get punched in the face. Other times it's about how far you're willing to push your own body. And other times it's about being an out and out badass.
Here, we've looked through the annuls of Ultimate Fighting Championship history to try and pinpoint the ten toughest fighters that the organisation has ever seen. As in, this is purely a UFC-based feature - so apologies to the Fedor Emelianenko fans out there!
But while renown tough guy Emelianenko and his ridiculous ability to absorb punishment isn't a part of this list, there are plenty of other fighters here who could give the legendary Fedor a run for his money in the toughness stakes. In fact, you could even argue that some of the names here are actually tougher than the Pride icon, although that's a debate for another day.
So without any further ado, here are the ten toughest bastards ever to step foot inside a UFC octagon.
10. Frankie Edgar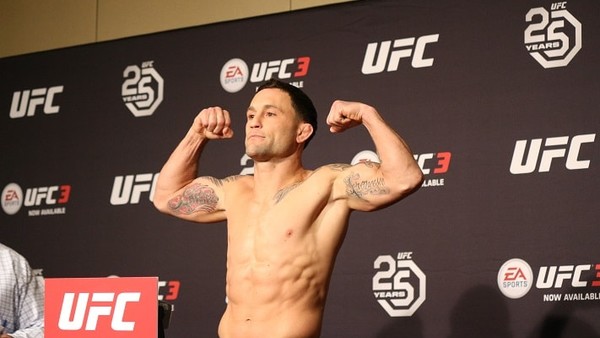 Many wondered whether Frankie Edgar was going to retire following his UFC 240 loss to Max Holloway last month, but the 37-year-old veteran was quick to reiterate how he's still going to compete in UFC going forward. And for the fans of the former UFC Lightweight Champion, that's a great thing.
In a professional career that currently stands at 14 years and counting, Frankie has only ever been knocked out once - at last year's UFC 222 against Brian Ortega - and is largely viewed as being one of the toughest SOBs to ever step inside the octagon.
Throughout that career, Edgar's toughness has been on display for all to see in fights against the likes of Hermes Franca, Sean Sherk, B.J. Penn, Gary Maynard, Jose Aldo, Charles Oliveira, Urijah Faber and even in that most recent battle against Max Holloway.
Frankie Edgar is a machine of conditioning and stamina, and so often he's come back from some brutal shots to again show that toughness that he's so famed for. You also have to remember, so many of Edgar's fights have come at a higher weight-class that he should've realistically been competing at.