10 UFC Fights That Did Not Go To Plan
Anything can happen once you step inside the Octagon.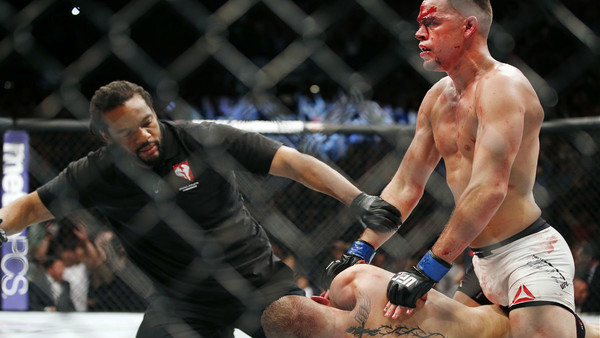 Trying to plan a career in the world of the UFC is pretty damn near impossible.
At the end of the day, when two fighters are paired together and then thrown into the Octagon, anything can happen and that's why we love this crazy combat sport.
It doesn't matter if you're an all conquering Champion or the undisputed face of the company, if you're not the better fighter in the cage on that given night you're going to be walking out of that arena with a nice big 'L' on your record.
These shocking upsets can sometimes catch the company completely off-guard and any plans for a star going forward can be suddenly scrapped if one particular fight doesn't play out as the UFC and fans around the world thought it would.
Old timers turning back the clock, legends being broken and even guaranteed spectacles failing to deliver have all proven exactly why you should always expect the unexpected whenever you flick on a UFC PPV.
These ten moments definitely weren't supposed to happen, but when they did the UFC were more than happy to rip up the script and change their plans for the future.
10. B.J. Penn Overcomes Matt Hughes (UFC 46)
Back in 2004, Matt Hughes was the undisputed king of the Welterweights.
He won the UFC Welterweight title from Carlos Newton at UFC 34 and went on to defend the belt five times in a row - which was a record at the time.
BJ Penn on the other hand was a fighter who had not been seen in the UFC since drawing with Caol Uno at UFC 41 in their Lightweight title clash.
So, Hughes was fully expected to run straight through a contender who wasn't even fighting in his usual weight class when the pair eventually met at UFC 46.
When the fight got underway, however, fans started to sense that things weren't exactly going to plan when Penn managed to get Hughes on his back early in the fight. Penn was the constant aggressor here and Hughes was desperately trying to find a way to wriggle out of the Brazilian Jiu-Jitsu master's grasps.
Then, with less than a minute to go in the first round, Penn capitalised on a mistake from Hughes and locked in a rear-naked choke. The Champ was forced to tap out and we incredibly had ourselves a new Welterweight king.
Penn was later stripped due to a breach of contract. However, 'The Prodigy' was never supposed to knock off Hughes in the first place and this insane finish still ranks as one of the biggest upsets in the company's history.