10 Ups & 0 Downs From AEW Dynamite (25 Jan - Review)
Jamin "Jay Briscoe" Pugh, 1984 - 2023.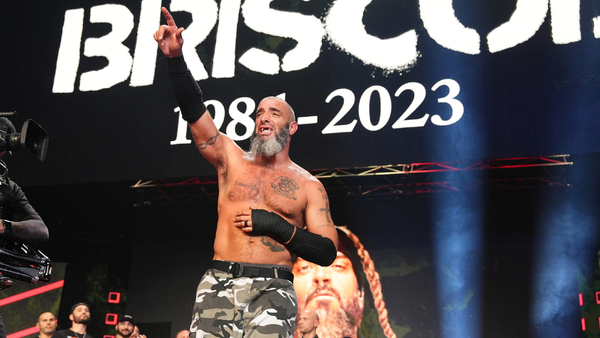 Here's some glib reality; the Ups and Downs format was designed to generate interest by dividing things clearly - and somewhat ruthlessly - between whether something is categorically bad or categorically good. This can rarely be the case in anything of course, but it's not hard to find the evidence out there that this is how many people enjoy engaging with things on the internet. Or, enjoy hating engaging with things and engaging with them more.
And now here's a reality that actually matters; when Tony Khan tweeted the quite miraculous news that Mark Briscoe was to wrestle Jay Lethal on what would have been his brother Jay's 39th birthday just eight days removed from his tragic and untimely passing, this edition of AEW Dynamite became something wholly different to the norm and could only be reviewed as such. "Worker" is a go-to label for most of us that follow all of this, but last night's show was defined more by fact than fiction - this place of work and indeed the wrestling world at large has been left emptier by Jamin Pugh's death, but the workers worked with poise, diligence and professionalism. For that they deserve our unfettered respect, kindness and gratitude.
The company managed to produce a Celebration Of Life immediately following last week's episode, but Briscoe's legacy warranted even more than the incredible tribute it would receive in the headline attraction of this card. Briscoe is survived by his impossibly brave family and friends, but also locker rooms full of wrestlers that knew him personally and professionally. And wrestlers who know and love those wrestlers personally and professionally. This is how life works, especially in death. He was a brother, ally, friend, peer and/or colleague to literally every single person that stepped through the curtain on January 25th. This was a wrestling show of a different kind.
All of us are born to die. It is the only certainty - everything is everything and then suddenly nothing, such is life's simultaneous kindness and cruelty. It's how we come together to support one another in the darkest times that acts most as the measure of us all. AEW reached for the sky.
RIP Jay Briscoe.
Let's light the fuse...