10 Ups And 7 Downs From WWE Extreme Rules 2019
Solid wrestling, smarter booking, but Brock is back.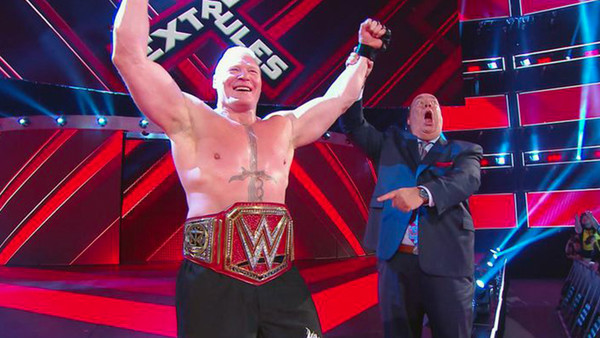 Let's get right to the bottom line: WWE Extreme Rules overall was a good PPV, featuring solid action and some smart booking. However, it was hampered by questionable booking on top, though it might be forgivable in time.
You see, Extreme Rules might be a reset show of sorts, with Paul Heyman and Eric Bischoff taking over Raw and SmackDown, respectively. This PPV was set in motion before they were tapped to lead the shows, so it's possible the outcomes were designed to help set both of them up going forward.
Regardless, huge credit has to go to the wrestlers, who could have throttled it down since this was kind of a throwaway show. Instead, they ramped it up and had good matches up and down the card. The worst match was watchable, while the best was pretty darn good, though nothing reached the "classic" level.
We saw a few new champions along the way, which always adds a little excitement, and we learned that WWE is capable of smart booking, as they found a way to accentuate the positive and minimize the negatives in the Undertaker & Roman Reigns versus Shane McMahon & Drew McIntyre match.
There's plenty to unpack here so let's saddle up and get to it…