10 Wild Confessions From Huge Wrestling Stars
John Cena and the Undertaker didn't play romantic lead types. On television, anyway...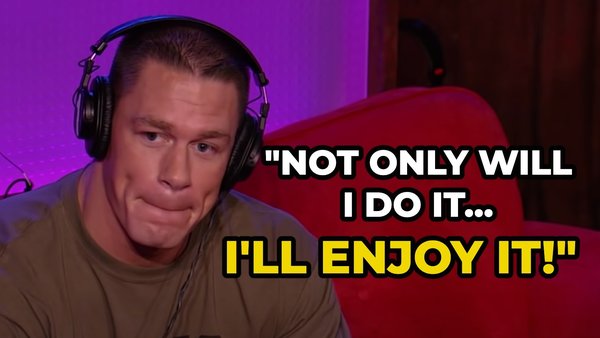 Wrestlers aren't necessarily candid types; by definition, they lie, and it is incumbent on them to lie.
They want you to think that the really hate the storyline rival to which they've been assigned by the booker in that given period of time. They want the public to think that they're in demand, so they'll pretend to have fielded offers. They'll say they're a few inches taller than they are, they'll say they weight a couple of pounds heavier than they do. They'll change their places of birth from "Ayr, Scotland" to "A completely f*cking different country, Wales" to get a pop, which Drew McIntyre will do at the upcoming Clash At The Castle Premium Live Event.
Of course, this is undermined by the shoot interview and podcast rackets. There, the pro wrestler will talk far more freely about anything, because the platform generates publicity. They'll think nothing of telling all about their least favourite opponents, what they really thought of life "up north," and what's really "missing" from pro wrestling because they want to be seen. They crave the spotlight.
They probably won't confess to murder, unless, of course, they are...
10. The Undertaker Confesses His Love Live At The Slammy Awards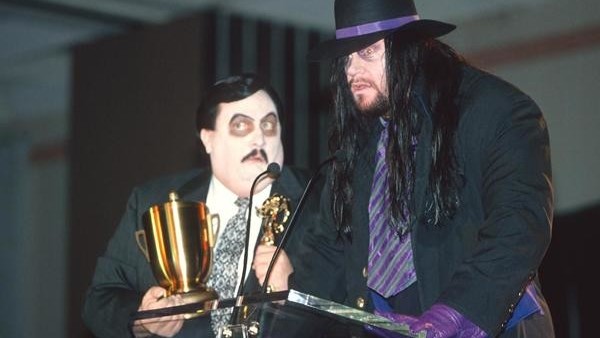 The Undertaker was all about protecting his pro wrestling persona, which he rarely if ever broke.
Of course, that has to be written in the past tense these days because he thought admitting to being old and terrible for the last however many years of his career made for a compelling, critically-acclaimed Netflix-style documentary series. Imagine if The Last Dance focused for some inexplicable reason on Michael Jordan's middling run with the Washington Wizards, and you're close to grasping the bizarre The Last Ride docu-series on the WWE Network. The difference being, of course, that, statistically, Jordan's Wizards run wasn't a disaster. But did you know that 'Taker broke character years and years before hilariously gunning for an Emmy?
At the 1996 Slammy Awards, the Undertaker sent a coded message to his wife at the time. "JLC," he said, "You are always on my mind".
JLC = Jodi Lynn Callaway.
So why did he say this?
Was 'Taker apologising for a bit of on-the-road how's-your-father?
Or was he just being a big old soppy b*llocks and telling his missus that he adored her in between working the Executioner or something?