10 Wrestling Matches That Ended In Unbelievable Locations
Could anyone have expected Al Snow vs Hardcore Holly to have been as epic as it was?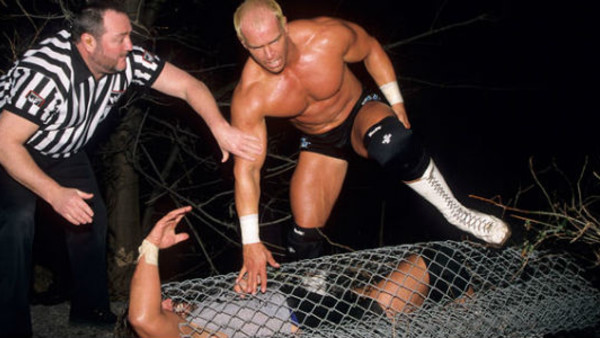 A wrestling match traditionally takes place in a ring, which is sometimes referred to as a squared circle. That's where the match starts and normally where it ends too. However, there have been a number of occasions where matches have ended elsewhere. It's time to take a look back at some matches in WWE history that ended in unique places. It's impossible to really remember every single match that had a wild ending spot, but there are a lot of them that were memorable. Some of them took place on big shows. Others were at smaller events or TV shows that just aren't as popular as the main ones. As long as they were in WWE, they were considered. The key thing about these selections is they are matches that usually start in the ring or in the arena and end up somewhere else. For example the "Iron Circle" matches in parking lots started and ended there. When Ken Shamrock was in Lion's Den type matches they started and ended there. There are much more than ten of these types of matches, but the point is to pick some that are different in their own way. It's not going to be about any of those silly Hardcore Title matches that took place in airports or amusement parks. As mentioned, in most cases these started in the ring and ended elsewhere. A lot of them took place during the Attitude Era too, which isn't much of a surprise. These are ten of the most memorable WWE matches that finished in unbelievable locations.