10 Wrestling Matches You Won't Believe Happened In 2015
Jerry Lawler and Terry Funk doing a fireball spot... in 2015!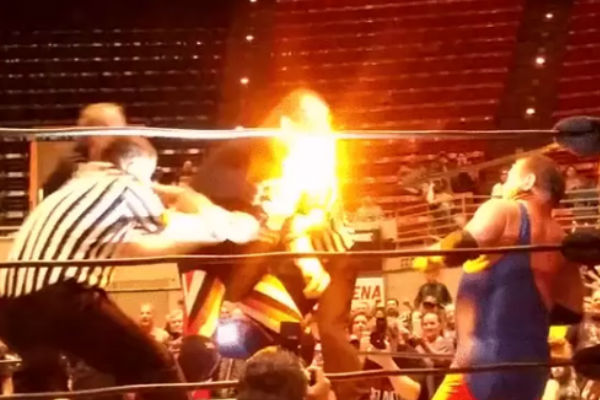 2015 is almost in the books, and no matter what perspective one's wrestling fandom takes, there were no shortage of huge matches by which to remember the year. WWE fans were thrilled as Seth Rollins robbed Brock Lesnar of the WWE Championship at the climax of Lesnar's WrestleMania main event against Roman Reigns, then couldn't turn away as Lesnar and The Undertaker split PPV matches later in the year. For NXT fans, Bayley's Women's Championship win over Sasha Banks at NXT Takeover: Brooklyn and Finn Balor's NXT Title win over Kevin Owens at The Beast in the East were highlights of the year. For those who prefer New Japan action, the hits were fast and furious, with Hiroshi Tanahashi's epic victory over Shinsuke Nakamura in the G1 Finals, or the separate victories each man picked up at Wrestle Kingdom 9 (over Kazuchika Okada and Kota Ibushi, respectively) being the pick of the bunch. Still, for every world-famous or five-star main event, there are hundreds of matches that float under the radar. Among all of the matches that fill independent and international shows, there are often some really, really weird ones - bouts featuring stars long thought of as retired (usually for good reason) or with confusing stipulations or storylines. They're part and parcel of a business that infatuates its veterans while failing to protect their financial security and, of course, likes a bit of weirdness. These things are the same all over the world, meaning bouts like these are more common than you might think...
Scott Fried
Scott Fried is a Slammy Award-winning* writer living and working in New York City. He has been following/writing about professional wrestling for many years and is a graduate of Lance Storm's Storm Wrestling Academy. Follow him on Twitter at https://twitter.com/scottfried. *Best Crowd of the Year, 2013
See more from Scott