10 WWE Stars Who Failed As The Number One Guy
To be the man you got to beat the man. But that's only the beginning....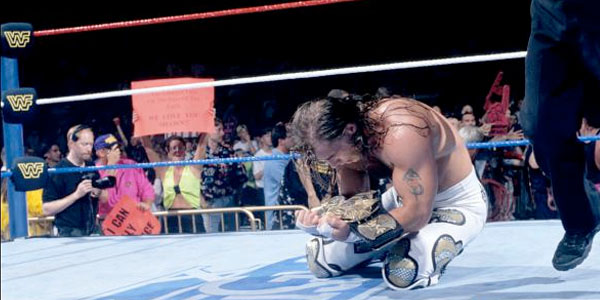 The evolution of man is charted by representations of each species; Australopithecus, Homo Habilis, Homo Erectus, Homo Neanderthalensis, Homo Sapiens. There were crossovers and periods between each stage, but with perspective and hindsight we can mark distinct eras. The evolution of WWE can be charted in a similar fashion; Bruno Sammartino, Bob Backlund, Hulk Hogan, Stone Cold Steve Austin, John Cena. Single superstars who were chosen to represent the values of the WWWF, the WWF and then the WWE. The face of the company, the poster boy, the Top Guy. Going all the way back to the territory days, there were two ways to run a wrestling company. Either you run a babyface territory, or a heel-based territory. The WWE method or the NWA method. As always, if you want an articulate description of a pro-wrestling practice, ask Paul Heyman. He was recently interviewed on Steve Austin's podcast, where he described the idea that the WWE has always built their company around one guy. One face is the embodiment of the company and everything else is an offshoot. Each story is based on the idea of the babyface revenge. Our hero was wronged and we want to pay to see him right that wrong. The NWA and, by extension, WCW, was a heel-based company. The faces fight from underneath. We pay money to see Ric Flair finally lose his title or to see the nWo finally overthrown. Heyman cements his genius in a way only he can manage with this summation: WWE is about the destination, NWA/WCW is about the journey. Put simply, the WWE business model relies on one wrestler embodying the spirit of their entire company. The Number One Guy; our hero. Oftentimes, in looking for that guy, the WWE pin their hopes on the wrong shoulders. Here's a few examples of the times when Vince McMahon chose the wrong Top Guy...
Michael Palmer
Michael Palmer is a contributor at whatculture.com and thelineofbestfit.com, and he probably likes WWE slightly more than most people would call "healthy".
See more from Michael