10 WWE Superstars You Forgot Sang Their Own Entrance Music
Who gets overlooked when it comes to wrestler-sung entrance themes?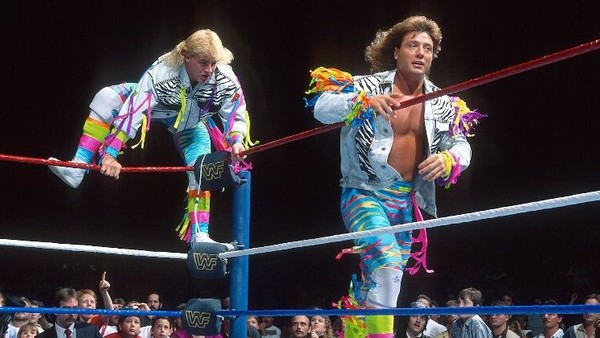 For decades, music has been a crucial element to the success of WWE. Used in various ways, music has been a key aspect of the WWE product but no where more vital than during a wrestler's entrance.
WWE superstars' entrance music has become critical in quickly identifying the wrestler about to enter the arena. While WWE employs various artists and composers to create these character-defining sounds, the promotion has a deep history of letting the talents sing their own vocals. In many cases, these performances mirror the characters they're playing such as young, arrogant pretty boys like Shawn Michaels, faux musicians like the Honky Tonk Man, and Thuganomics John Cena. These theme songs are often remembered fondly when it comes to wrestler-provided vocals.
But what other talents have voiced their own entrance music? Which WWE superstars have acted as lead vocalist but are often overlooked?
Not all of these themes fit the talents' characterization and in some classes, almost seem out of place. Maybe that's why the following wrestler-sung themes aren't remembered as well as others, despite being sung by the very same talents the songs represent...
10. Hillbilly Jim
Music had a lot to do with WWF's first boom period; the Rock 'n' Wrestling Connection was a major factor in making the WWF a household name in the 1980s.
Not only did the WWF partner with MTV to produce The War To Settle The Score, the groundbreaking predecessor to WWF's PPV business model, but the wrestling promotion even released their very own studio album, originally titled The Wrestling Album. The CD consisted of entrance music used by various superstars as well as other, non-theme songs with vocals sung by the wrestlers.
One of the singles released from the album was Hillbilly Jim's Don't Go Messin' With A Country Boy. Jim sang the lyrics and used it as his entrance music for several years.
Even after Jim's WWF in-ring days came to an end, the country tune was used for Henry and Phineas, The Godwinns, after the pig farmers hired Hillbilly Jim as their manager in 1996. Today, it's curiously dubbed-over on the WWE Network despite it being one of the feature tracks of The Wrestling Album.