12 Definitive WWE Attitude Era Matches
Bouts that brought the Attitude to the Attitude Era.
The Attitude Era was the most magical period in World Wrestling Entertainment history, a time where characters were vivid and well-defined, stories were compelling and content was as over-the-top as imaginable. Sex, violence and anti-authority sentiment dominated Monday Night Raw, garnering record television ratings and spawning a new broadcast known as SmackDown. Superstars such as The Rock, "Stone Cold" Steve Austin, Mankind, The Undertaker, Sable, Chyna and Kane became household names while personalities like Val Venis, Goldust, D'Lo Brown and "Sexual Chocolate" Mark Henry became fan favorites of the die-hard audience. As excellent as the television was, as intriguing as the stories were and as entertaining as the characters proved to be, the matches they crafted helped set the era apart from others. Those matches were exercises in emotion, in drama and in non-stop action. They were not always the prettiest technical bouts but what they did was keep fans on the edge of their seats, resulting in the most fun one could possible have from a live entertainment art form. Featuring future Hall of Famers and dynamic performers the likes of which have not been seen since, these are the 12 most defining matches of the Attitude Era.
12. The Hardy Boyz vs. The Dudley Boyz vs. Edge and Christian - SummerSlam 2000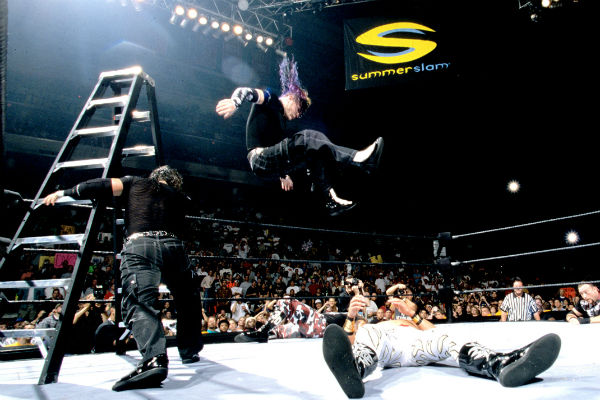 The first Tables, Ladders and Chairs match occurred in August 2000 at SummerSlam and pitted the three most dominant tag team competitors of that era against each other in one of the wildest, most chaotic and dangerous matches in the industry. The culmination of a three-way feud over the WWE Tag Team Championships, the match featured some of the most death-defying spots and jaw-dropping moments of the Attitude Era. For 15 minutes, the three teams threw caution to the wind, sacrificing their bodies for the entertainment of the fans and the chance to hold high the most coveted prizes in tag team wrestling. The violence that was unleashed by the competitors, and the unpredictability of the action, was a perfect compliment to the era in which it was originated. A late-match run-in from the red hot Lita had fans thinking the hometown Hardy Boyz may finally regain the titles they had not held in over a year, but the opportunistic and villainous Edge and Christian withstood the test of their opponents and successfully retained their titles in a legitimate five-star classic. This is hardly the last time we will touch on the competitors involved.