13 Best Ever Freebird Rule Tag Teams
When it comes to pro wrestling, three heads are better than two.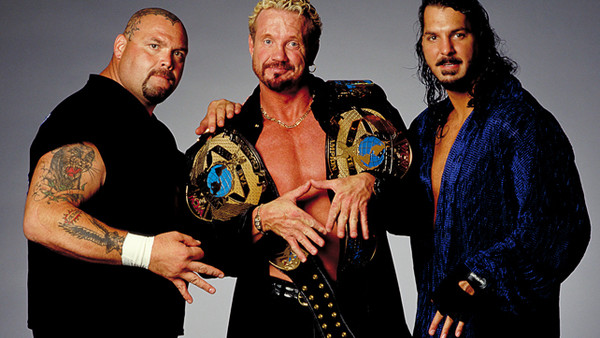 Now that The New Day has crushed The Club and proved for the umpteenth time that they're the most dominant tag team in all of wrestling, this might be a good time to discuss exactly why they've been so successful. It's not just positivity and booty nutrients, you know.
It's called the 'Freebird Rule': the idea that a three-man unit can compete in a conventional two-man tag team division on a rotational basis. That is, any two of the three members can function as official team members, making it more difficult for opponents to prepare for them.
It's distinct from a conventional three-man or trios team; The Shield was unstoppable as a unit, but Roman Reigns and Seth Rollins were the tag team while Dean Ambrose was the singles guy. If Erick Rowan and Luke Harper had won the tag titles beck in the day, we wouldn't have expected Bray Wyatt to defend them, you know?
All the teams on this list won tag team gold, so I've also crunched the numbers to figure out how long these three-man units were able to hold off the competition.
13. The Band (TNA)
Members: Kevin Nash, Scott Hall, Eric Young
Championships: TNA Tag Team Championship
Total Days as Champions: 41
Stop me if you've heard this one before: TNA did something that WCW or WWE did, but it was a gigantic mess and immediately melted down and wound up being a total waste of everyone's time. In this case, they rehashed the Nash/Hall/Syxx trio with Eric Young in the Syxx role. Nash and Hall defeated Matt Morgan, who was the sole tag champ at the time, and then The Band was stripped a little over a month later when Hall was fired. Super shrug!