13 Ups & 5 Downs From AEW All Out
Downs...
5. The Dark Order Misfire... Again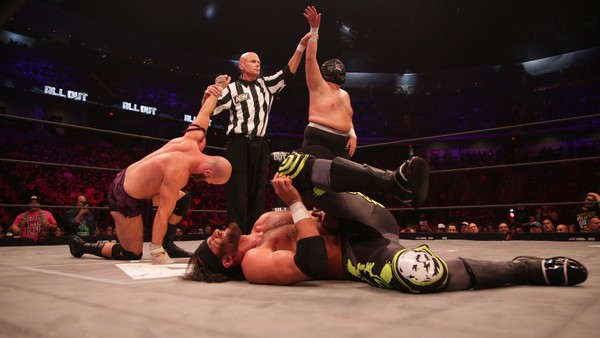 The Dark Order have been a fine in-ring tag team for years, but All Elite Wrestling continue to get Evil Uno and Stu Grayson wrong where it matters.
The duo are being let down through presentation and placement. With regards to the former, the gimmick is beyond corny with their Creepers looking more like twisted sex slaves than deadly followers, and their look pure shindie. Placement-wise, they were sent out to die at All Out. Going almost 15 minutes with a fundamentally solid but unremarkable tag match after the chaos of Jimmy Havoc vs. Darby Allin vs. Joey Janella and the much-anticipated PAC vs. Kenny Omega showdown only killed the crowd, and they didn't truly recover until two matches later.
Taken in isolation, Dark Order vs. Best Friends was solid enough. They worked hard and the Grayson/Uno tandem showed enough to suggest they can succeed if they're repackaged, but their current gimmick just isn't it. It has almost been rendered antiquated by Bray Wyatt's resurgence as The Fiend on WWE television. Here's hoping AEW switch it up.