13 Ups & 9 Downs For WWE In 2022
A rollercoaster review of the most chaotic year in WWE history.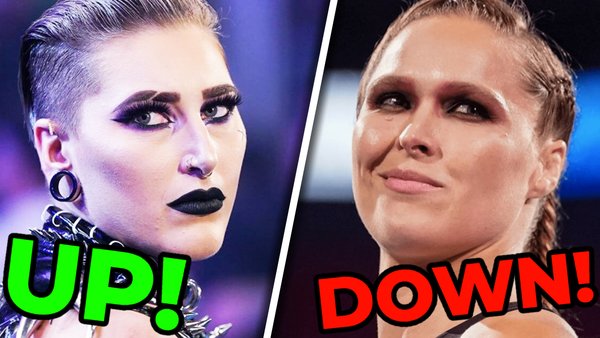 In judging WWE's 2022 as a whole, what would be too generous or harsh to include simply as a straight "Up" or "Down" per the restrictions of this review format?
Bray Wyatt, as usual, has divided the audience and he's only appeared in three months out of the twelve. Uncle Howdy feels increasingly like a Fiend by any other name, even if Wyatt himself feels closer to perfecting the act of playing himself at last. He's neither Up nor Down yet, though it's clear 2023 will decide that one way or another.
Johnny Gargano's had a rotten start to life on the WWE main roster, but has such a brilliant and relatively recent legacy under Triple H that it seems like sooner or later he'll kick out from the pinning predicament he's been placed in. 'The Game' himself has inspired patience in his processes too, and while WWE's not been perfect since he took the wheel, enough has improved to suggest that even more will.
Brock Lesnar lifted up the ring with a tractor at SummerSlam but lifted nobody with nuthin' in a rotten WrestleMania main event. Edge's unlikely second career looked legitimately doomed for half the year before a separation from his new stable saved him and it. Bobby Lashley was WWE Champion at the start of the year and a former United States one by the end. Current titleholder Austin Theory's trajectory is heading in the opposite direction but the burial he endured to get back on track was one for the ages.
It's actually quite tough to be either so awful or awesome for the bulk of the calendar year that it's memorable by the end. Kudos, then (or...the opposite of that...) to those that made the cut...