13 Ups And 16 Downs From WWE Royal Rumble 2019
A great surprise treat ending boosts long, lacking PPV.
Is it over yet?
PPVs like the Royal Rumble are marathons, requiring a ton of stamina – and caffeine – to make it through the entire event. When you count the kickoff show, it's seven hours of matches, with the two Rumbles alone eating up two of them.
The Rumble is a tough match to mess up, though WWE has excelled in recent years at managing to botch it or at best deliver lackluster matches. Sunday was no exception, as both the men's and women's Rumbles were OK and had some solid moments, but also produced some stretches that were absolute clunkers.
The right people won the Rumbles, which was great news. And most of the other matches were decent, but it was lacking in other areas. The tag team matches were awful, and the men's world title bouts could have been scrapped and the PPV wouldn't have suffered one bit. That's never a good sign to say that out loud.
Overall, the Rumble PPV wasn't bad, but it's not something this writer will sit through again anytime soon… or ever.
However, we did get some really memorable moments, so let's break it all down. Let's find out what eliminated the competition and what got tossed itself. Let's get to it…
Downs...
16. Outdated Information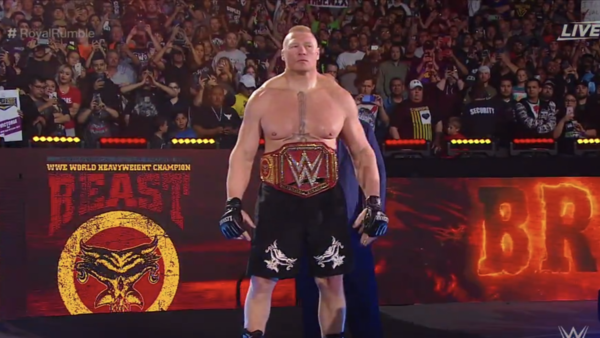 We have to start off by quickly pointing out something not noticed until now...
As Brock Lesnar came out for his (rare) WWE Universal Championship title defense, the LED board behind him came into perfect view with his logo. Above the beast head and sword image were some words:
"WWE World Heavyweight Champion."
Seriously, go back and check it. For the record, Lesnar has not been WWE World Heavyweight Champion since March 2015. Nearly four years ago. The title's name has changed since then. That is just insanely ridiculous, and an unforgivable error.
Scott Carlson
Scott is a former journalist and longtime wrestling fan who was smart enough to abandon WCW during the Monday Night Wars the same time as the Radicalz. He fortunately became a fan in time for WrestleMania III and came back as a fan after a long high school hiatus before WM XIV. Monday nights in the Carlson household are reserved for viewing Raw -- for better or worse.
See more from Scott