15 Funniest Stars In WWE History
These guys really provide the entertainment in World Wrestling Entertainment
Variety is the spice of life. It's a saying that is as applicable to WWE as it is to day-to-day existence; in WWE's case having a variety of characters helps to keep the product fresh. We all love a badass like Stone Cold Steve Austin or a snarky heel like Kevin Owens, but if Raw and Smackdown were only populated by characters like this, they'd get stale quicker than Roman Reigns' 'I'm THE guy' promos have done.

The New Day are living proof that humour is as important to the wrestling business now as it ever has been. The audience might not buy you as a cold-hearted wrestling machine or a ruthless villain, but if you can make them laugh and simultaneously make them believe in your in-ring skills, you can get over more than anyone ever anticipated.
Variety is the spice of comedy too — some of the entrants on this list might be goofy, while others sarcastic or quick-witted. A lot of them have also had to work with shonky material, but they all share one major thing in common, which is the ability to make us laugh.

A quick caveat for this list; there are duos on this list. They've been included as single entrants as their funniest moments were together.
15. Shawn Michaels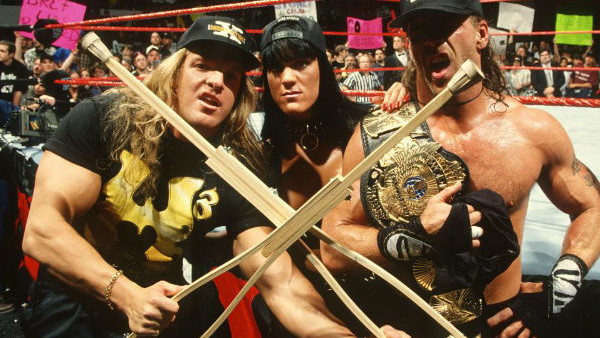 With such a long and storied career, The Heartbreak Kid had plenty of success before the formation of D-Generation X, but the stable pushed his career into overdrive. The team of Michaels, Triple H and Chyna allowed Shawn's rebellious, raunchy sense of humour to make it to the screen, and in the Attitude Era, it was comedy magic.
He was the chief mischief-maker of the stable, with an amazing ability to switch between a goofball and an intense, ambitious champion at the drop of a hat.
Upon his return to WWE in 2002, the sassy side of Michaels' character was curbed following changes in his personal life away from the ring. The DX schtick also proved tired when WWE resurrected the stable in 2006, but the group's original run created plenty of funny memories.