16 Ups & 4 Downs From AEW Double Or Nothing 2019
1. The Botched World Title Reveal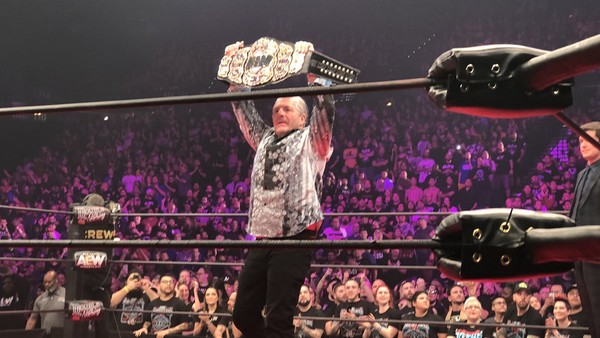 Bret Hart's surprise appearance was awesome. Consider it a supplemental Up. Nobody could have expected 'The Hitman' to show up at Double Or Nothing, particularly after the way WWE had rolled the red carpet out for him following the Hall Of Fame incident, and watching him come out to a Jimmy Hart version of his classic entrance theme was a joy.
His reveal of the AEW World Championship? Not so good.
In fairness, it probably wasn't the legend's fault. It was poorly directed. Unleashing the strap came too soon after the MJF/Jungle Boy/Jimmy Havoc brawl had dispersed. The cameras cut from their scrap to the ring, and suddenly, 'Hitman' had it hoisted up.
What really sucked was that we didn't even get a good look at it, as Hart barely spent a second facing the hard cam. A shame, as it's a beautiful beautiful belt, and this sloppiness left its unveiling feeling underwhelming.