17 Reasons WrestleMania 17 Is The Greatest Wrestling PPV Ever
The Granddaddy of the Granddaddy of Them All!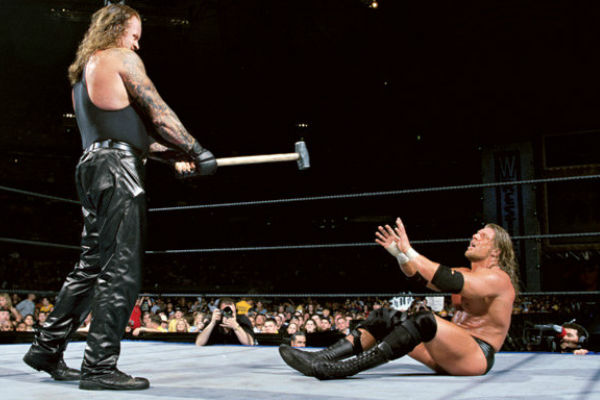 Wrestlemania 32 is a little more than a month away, and now that we€™re firmly into Wrestlemania season, it€™s time to look back at some of the great Wrestlemanias of the past. Specifically, it€™s time to look at not just the greatest Wrestlemania of all time, but the greatest Pay Per View of all time: Wrestlemania X7. Taking place 15 years ago on April 1, 2001, at the Reliant Stadium in Houston, TX, the show was nearly flawless from top to bottom (save a few hiccups here and there; Eddie Guerrero vs. Test comes to mind). Historically, the show was also a bookend to the most successful period in WWF/E history: the Attitude Era. It was a perfect blend of great matches, great storytelling, nostalgia, breathtaking spots, and some serious shocks. Other Wrestlemanias have since given X7 a run for its money (XIX in 2003, 21 in 2005, and even 31 last year), but X7 remains as the greatest of all time. Fifteen years after it happened, the show still has an enduring legacy, and it€™s with this legacy in mind that we take a look at all of the reasons why Wrestlemania X7 was the greatest Pay Per View of all time. And because it was the 17th Wrestlemania, we will give you 17 reasons.
17. The Venue
For the past nine years, we€™ve been used to Wrestlemania taking place in a stadium rather than an arena. We fully expect the attendance to be well over 60,000 fans (and this year in Dallas, the total may exceed 100,000). But from 1993 until 2000, Wrestlemania only took place in 20,000-seat arenas or less. Since 1992, when Wrestlemania 8 took place at the Hoosier Dome in Indianapolis, IN, and Summerslam took place in Wembley Stadium in London, the WWF had only drawn more than 20,000 twice: the 1997 Royal Rumble in the Alamodome in San Antonio, TX, and an episode of Monday Night Raw in 1999 that aired from Toronto Skydome. Wrestlemania X7 drew nearly 70,000 fans, the most since Wrestlemania 3. The stage looked massive, dwarfing any Titantron from Raw or any other Pay Per View. Natural daylight poured in from the top of the stadium for the early action, giving the show a unique look that hasn€™t been seen since Wrestlemania 9. Before a single match took place, you knew you were in for something special.