18 Things You Probably Missed From WWE SmackDown (April 2)
Seth Rollins gets a "new" WWE nickname and some forgotten sons show up on SmackDown.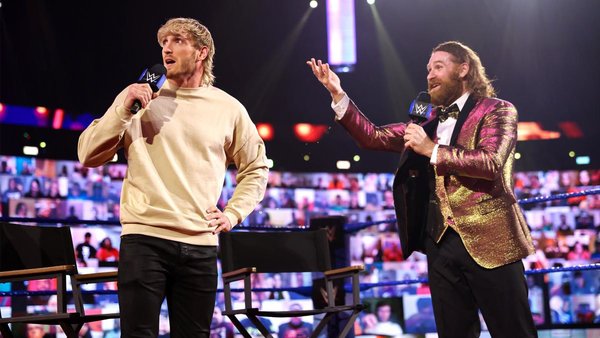 Sami Zayn could sneeze and it'd be entertaining.
Maybe not to Vince McMahon ('No sneezing, damn it!'), but everyone else would get a laugh out of the delusional heel's antics. This week, Zayn welcomed YouTuber Logan Paul to SmackDown for a sneak peek of his upcoming documentary. As expected, it was over-the-top. Unexpectedly, Paul added to the skit.
You might've missed Logan's silky-smooth work if you skipped the segment; that'd be understandable, because such celeb-infused promos are usually intolerable. However, this was a winner. So, mind you, were all 18 of the little hidden gems featured in this very article.
Want to know what Paul Heyman really thinks of Daniel Bryan? You got it. Need to learn how WWE are teasing a match between Seth Rollins and Shawn Michaels? It's here. In the mood to see The Street Profits fight back against company creative during a short backstage promo? That's included too.
Add in wonky graphic work from the production team, Dolph Ziggler taking a nasty fall, Nia Jax accidentally dissing NXT, WWE digging up storylines from 1988's glory days, Corey Graves bemoaning his gift-giving ideas and more - here's everything you probably missed from the latest SmackDown...