2 Ups & 5 Downs From AEW Rampage (April 7)
AEW pokes fun at the WWE/UFC merger; Rampage has the wrong main event.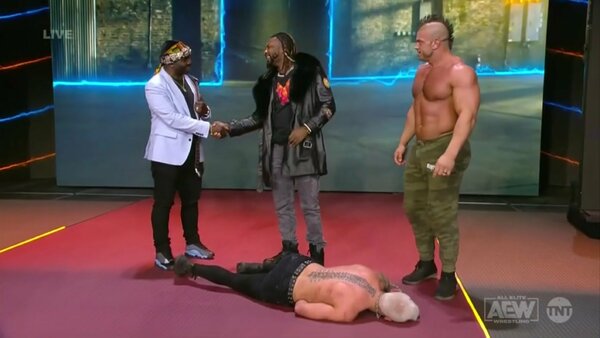 Hey, look! AEW is taking the p*ss out of WWE's recent news on their own dime. Boy, as Tony Schiavone once infamously said during the WCW days, "that'll put some butts in seats".
Seriously though, the fact Tony Khan used some of his own airtime to rip another promotion's merger perhaps says everything about Friday's dual Rampage and Battle Of The Belts taping. It's really difficult to like this sort of thing, especially when it's diverting attention away from things AEW fans should be asked to care about.
No, Rampage wasn't great.
The show was blighted by a questionable choice in the main event slot (one which hardly helped the wrestlers involved), that aforementioned WWE ribbing, relentlessly poor formatting, the familiar picture-in-picture grumbles, and poor commentary that made one wonder if the announcers even watch the product.
On the plus side, Rampage did kick off with something refreshing for long-suffering viewers of the hour-long weekly, and Darby Allin defied recent real-life accidents to put on a bruising show that bolstered his daredevil character. He, and that opener, salvaged a few 'Ups' for the broadcast.
Here's all the good and too much bad.