2 Ups & 5 Downs From AEW Rampage (May 13)
Matt and Jeff Hardy send out a big challenge; AEW Rampage is dying a slow death.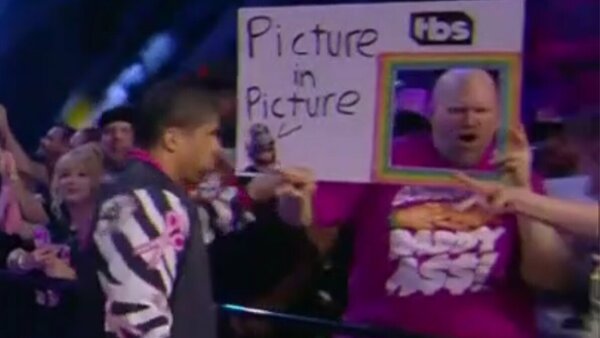 See above for one fan's lighthearted p*sstake of AEW's familiar picture-in-picture cutaways.
The dude wearing that Billy Gunn t-shirt was having the best time, but the fact supporters in the stands are poking fun at one of Rampage's weekly annoyances tells its own story. Also, and this isn't a nice thing to say but...All Elite's Friday show has been dying a slow death for a while.
Tony Khan blatantly has other things to think about, and so Rampage is pushed to the very last-minute. Or, at least, that's what it seems like - the broadcast just isn't important to the wider AEW product anymore. It threatened to be for a short while, and there have been signs of life here or there, but it's Sunday Night Heat circa 2008.
This week, TK put on a decent trios opener and another solid outing in the women's division. Literally everything else was afterthought garbage though, including The Hardy Boys firing out a vow to become AEW Tag-Team Champs (and the contractual nonsense that came with it).
Some acts are directionless, others tired, and there's an all-round low-rent vibe to Rampage generally. Here's all the good and bad from a program that's about to become even less important once Collision launches.