20 Greatest Matches In WWE's Empty Arena Era
Turning up the volume while the crowds are away.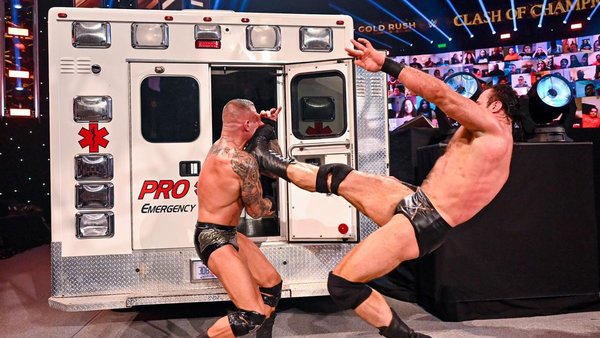 With WrestleMania and the gradual reintroduction of fans just around the corner, the time has come to begin the analysis of WWE's empty arena era. What began as an eerie, awkward spectacle has gradually turned into something we've gotten used to. While we can't wait for it to be over, it's fair to say all involved have commendably made the best out of a bad situation.
The main roster has had their usual share of goofiness and regrettable choices, but the past 12 months have seen some great matches, too. There's been something for everyone - technical showcases, high drama, and outright craziness like only WWE can deliver.
NXT, meanwhile, took a little longer to adjust to the new way of life, being more dependent on crowd reaction than WWE proper, but in turn they've delivered their share of belting events and matches, with old hands rising to the occasion and newer faces putting in star making performances in uncertain times.
We hope, of course (for reasons far more important than wrestling) that nothing like this ever happens again, but it's heartening to know that the show can go on for WWE's finest.
20. Men's Rumble Match - Royal Rumble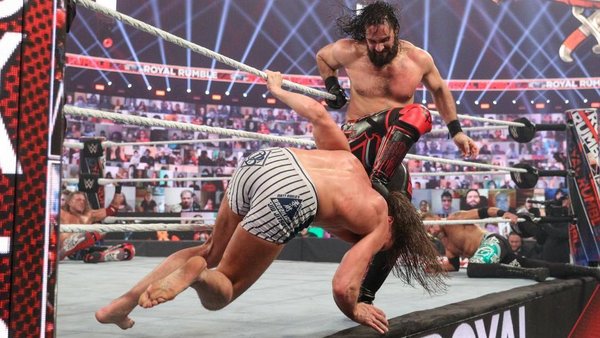 More so than most Rumbles in recent memory, this year it was anyone's guess who'd be the last man standing. The sentimental favourite was Daniel Bryan, but the likes of Seth Rollins, Big E, and Bobby Lashley all seemed believable choices to go over (or not go over, more to the point).
In the end, the nod was given to Edge. One year after his monumental return, the veteran completed his heartwarming comeback by flinging perennial thorn in the side over the top rope to secure a WrestleMania headline spot.
Some will argue that the 47 year old Edge didn't need this win, and there's something to that, but it's hard to begrudge the Rated R Superstar this shot at glory given the injury that robbed him of so many good years - plus the fact that he can still clearly go, middle aged or no.
Elsewhere there were fun comebacks - Carlito, Hurricane Helms - quality showings for Damien Priest, Lashley, and Big E, and an overwhelming sense of relief that even the pandemic couldn't spoil the best night on the wrestling calendar.