WWE Form 2016 Version Of J.O.B. Squad On RAW?
Heath Slater, Curtis Axel, Adam Rose & Bo Dallas are the Social Outcasts!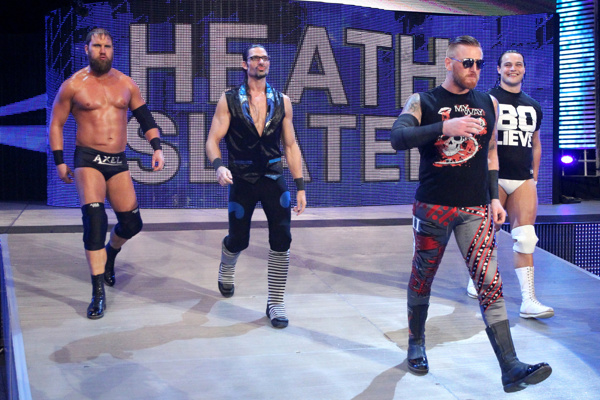 WWE appeared to form the 2016 version of The JOB Squad on last night's RAW. Heath Slater fronted a new faction called "Social Outcasts" along with Curtis Axel, Bo Dallas and Adam Rose. The Showoff and Slater faced off in a singles match, but instead of appearing alone - which Heath has done since 3MB members Drew McIntyre and Jinder Mahal were fired in 2014 - The One Man Band was accompanied by Messrs Axel, Rose and Dallas with no explanation. However, if you look at each of the Superstar's social media accounts, you'll notice that they were all tweeting about 'change' in the build up to RAW - hinting that a new faction could be on the horizon. https://twitter.com/HeathSlaterOMRB/status/684136389516996608 For those of you that are too young to remember, the J.O.B Squad was popular a faction during the Attitude Era made up of the perennial jobbers on the roster in Al Snow, Bob Holly and Scorpio. You don't need me to tell you that in Slater, Dallas, Rose and Axel are those men on the roster today. After the match, each man had a few seconds on the mic where Axel claimed the "chains were off," and Dallas mentioned how the measure of a man wasn't how many times he gets knocked down, but how many times he gets back up. Both men were obviously referncing their respective WWE careers to date and the undeniable frustrations they've had with the company's creative teams.
Create Content and Get Paid
---