24 WTF Moments From WWE SmackDown (Dec 22)
That time SmackDown was BETTER than RAW...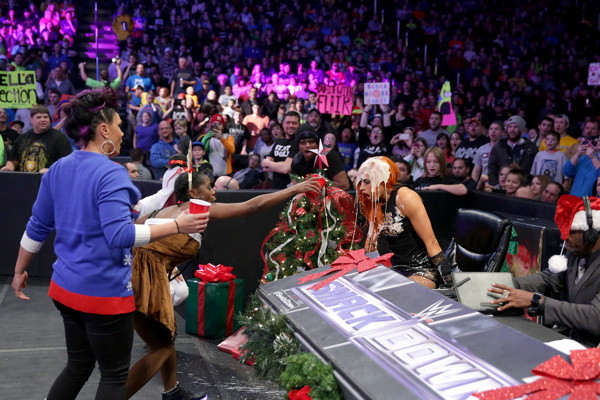 As part of WWE Week on USA Network, SmackDown took to the airwaves live for the first time in what feels like a lifetime and had a couple of title matches to mark the special occasion. Dean Ambrose - who defeated Sheamus in a Steel Cage Match on RAW after Stephanie McMahon saw it as a way to punish WWE World Heavyweight Champion Roman Reigns - was all set to defend his Intercontinental Championship against Dolph Ziggler and former champ Kevin Owens. KO and the Zigman had their 1456th match of the year together on Monday night after Owens said that Ziggler should win the 'Has Been of the Year Award." Big Kev then went on to defeat Dolph in next-to-no-time before this match was announced. The other big Championship match would see The New Day put their WWE Tag Team Championships on the line against The Lucha Dragons. The Slammy Awards came out as rigged on Monday as New Day saw themselves robbed of the Tag Team of the Year crown, as the WWE Universe seemingly voted in favour for The Usos. Well, Xavier Woods would tweet a damning screenshot of the voting process, that saw New Day receive around 1200 more retweets than Roman Reigns' family members - who had only wrestled around three months of the year and shouldn't have really been considered for the award. Anyway, it was the Lucha Dragons who had their shot at the titles - and rumours heading into the show suggested they could be in-line to win them. If they were to, that would be sure to make a list of 24 WTF Moments from WWE SmackDown...