25 Most Revealing WWE Instagram Posts Of The Week (14th Feb)
#ThankYouDanielBryan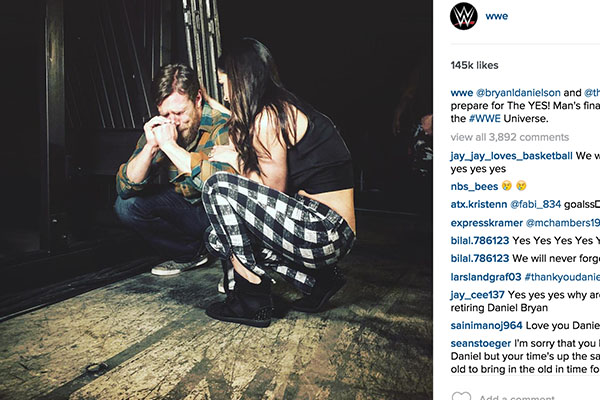 Another week, more bad medical news for the company: though it's been a long time coming, Daniel Bryan's retirement on medical grounds has cast a shadow over WWE at a time when the roster is already thin on the ground. Vince McMahon might not personally lose a lot of sleep over the former champ's forced decision, but fans who had hoped to see him return will now be disappointed that the slim chance has been blown away. Inevitably, the main focus of the week in the WWE universe has been on Bryan's announcement, with possible shock waves assessed, fandoms mourned and more than anything his career celebrated earnestly. Obviously there were other developments in the universe too though: Titus O'Neill was suspended for a moment of idiocy that exploded out of hand, there were fresh hints of Ronda Rousey appearing at WrestleMania as well as Stone Cold Steve Austin. Despite highly publicised troubles, the company also posted record profits as a major boost in the run up to WrestleMania, and the talent all celebrated by posting selfies from all over the world on social media. This is the week in WWE Instagram...
25. New Cuts, New Life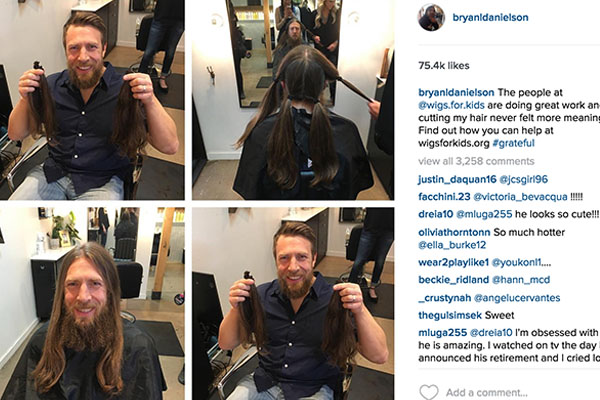 Quite a statement by Daniel Bryan on the eve of his big, saddening announcement. Because you don't love him enough, Bryan donated his impressive main to a charity that makes wigs for children, stating that cutting his hair had never felt so meaningful. Presumably he didn't donate the rest of his beard.