25 Most Revealing WWE Instagram Posts Of The Week (Jul 27)
What happened when a WWE Champion met up with a Texas Rattlesnake on Instagram?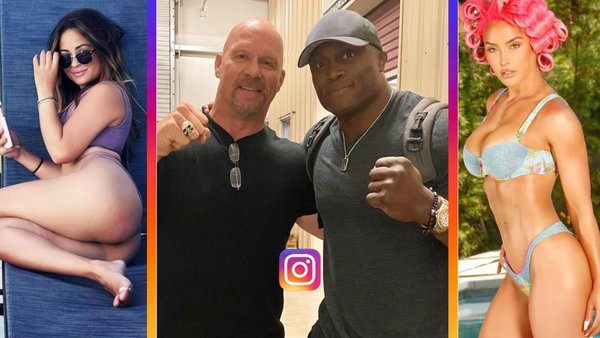 One week removed from finally inviting actual live fans back into WWE arenas, the likes of Raw, SmackDown and NXT continued to build on that long awaited momentum over the last seven days... well, they tried, at least.
A few days on from being called out by The Leader of the Cenation, The Tribal Chief likened his potential summer sparring partner to the missionary position and laughed off all hopes of a seismic main event. Instead, a returning Prince, fresh off of being Krossed by Karrion on the black and gold brand, was thrown into the Universal Championship mix, setting up a thrilling appetiser for that inevitable Peacemaker vs. Peacebreaker collision at SummerSlam.
Away from WWE's strongest weekly show, however, it was unfortunately business as usual. The Raw Women's Championship scene, despite a heart-warming cash-in a week prior, continues to make about as much sense as pineapple on pizza, and once compelling units were again made to look like goobers in order to build towards the return of an over-the-hill icon.
The damage done to NXT Champion Karrion Kross also shows no signs of being repaired either, with The Bringer of Doomsday returning to Tuesday nights to sneak attack an old man before murdering Keith Lee to the sound of a less than impressed Raw audience. The writing was on the wall (in more ways than one) in the wake of his Charismatic calamity. So, it may be time to return a certain shade of Scarlett to the fold.
As the Summer of Cena starts to pick up momentum, though, and both SummerSlam and NXT TakeOver 36 begin to take shape in the coming weeks, now seems like as good a time as any to sit back and admire how our favourite WWE stars are getting primed for a summer to remember on Instagram.
Well, everyone except Baron Corbin, that is...