25 Most Revealing WWE Instagram Posts Of The Week (Jun 8)
Which WWE star showed off a touching gift on Instagram this week?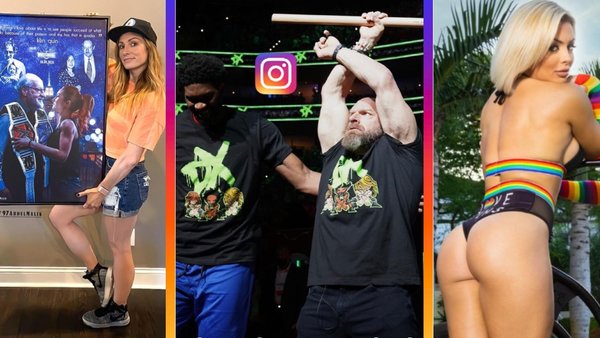 Another week, another set of absolutely mind-boggling WWE releases that made a Randy Orton RKO look telegraphed.
Monsters Among Men were let loose out of the blue, Best Kept Secrets were given the boot, and Dark Fathers were cut down mid-angle, proving once again that, unless you sit at the Head of the Table, nobody is truly safe in Vince McMahon's empire. With so many potential playgrounds to take their toys to in the near future though, this is far from the (Tommy) End... this could in fact just be the beginning of an epic new Riott for those given their marching orders.
For those still calling WWE home at this current moment in time, however, it was business as usual this week. And by business we mean more soul-crushing Lilly laughing stocks on Raw - this time involving a former NXT Women's Champion being tormented by a mirror - and Roman Reigns bullying his family and taking matters into his more than capable hands on SmackDown.
NXT also decided that four challengers are better than one, throwing together a mammoth Fatal Five-Way for the NXT Championship at TakeOver: In Your House. Oh, and it appears a certain legendary Championship may be on its way back to WWE television, if this week's 'Priceless Announcement' delivers what we think it will.
If all that wasn't enough, this week also saw the announcement of SummerSlam 2021 landing in Las Vegas on a Saturday night. Will you be heading to Sin City to celebrate the Biggest Party of the Summer? If not, here's a photo of Bobby Lashley ironing on Instagram instead...