3 Ups & 4 Downs From AEW Rampage (Mar 25)
Swerve Strickland loses; Adam Cole steals some more AEW belts; Rampage needs a rethink.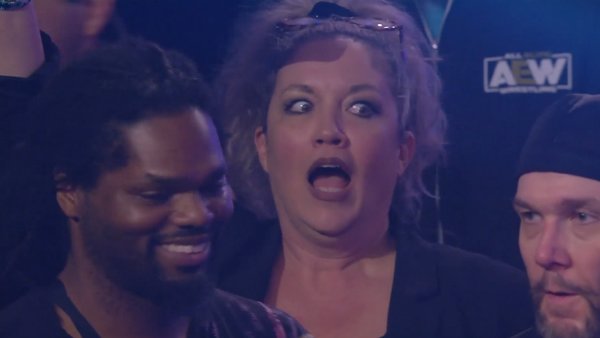 Someone find this AEW fan and shake her hand.
One constant you can always rely on when sitting down to watch All Elite programming is that the crowd will be right up for it. That's no different whether it's Dynamite, Rampage, pay-per-view or anything in between. Sadly, as this week's Rampage showed, the booking doesn't always meet them halfway.
It pains this writer to say it, but there's a malaise creeping over the Friday night show. There's always some solid in-ring wrestling, but does the 60-minute complement to Dynamite really need to be this busy with unnecessary angles? AEW are trying to squeeze a little too much onto those formats.
On the positive side, Rampage featured a fun (if a little outdated) grudge match to kick things off. There are also good things happening in the tag-team division, and an unlikely source popped up to deliver a fiery promo - that one was as entertaining as it was unexpected.
Some folks reading this will want to crucify yours truly for refusing to stick the main event in the 'Ups' section though. Read on for a full explanation on why it hit the 'Down' marker first...