"Da Pope" Elijah Burke Interview: NWA, Charity Work, IMPACT Stint, WWE/AEW, More
The NWA Television champion tells all about feeling at home in the promotion's studio setting.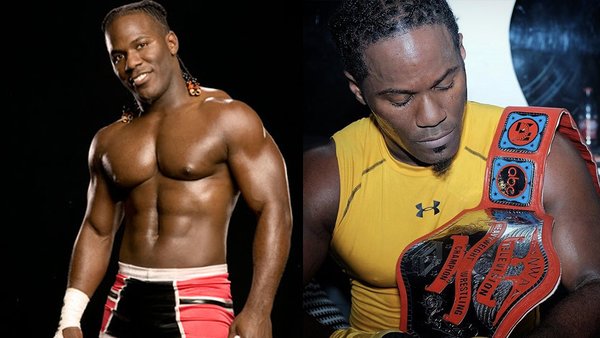 Whether it's Da Pope, D'Angelo Dinero and just straight-up Elijah Burke, the former WWE and IMPACT star has gone by many names throughout his lengthy career. These days, he's best known for his work as the NWA Television champion.
Pope has been appearing for the NWA since the start of Powerrr in 2019, previously serving as the manager for Eddie Kingston and Homicide. He eventually transitioned into an in-ring role and captured the NWA TV title in October 2020.
As champion, he's defended against all comers and has been cutting some of his strongest promos to date. Shockingly enough, he hadn't already held gold in another major promotion before joining the NWA, but he's finally getting his chance at super stardom now and is more than making the most of it.
In addition to stacking up wins inside the squared circle, Burke has been extensively involved with charity work for the last decade. His foundation Love Alive Inc. is committed to positively influencing as many people as possible, including at their upcoming Great American Clash show on June 19th in Jacksonville, FL.
Ahead of the NWA's When Our Shadows Fall event on June 6, Pope took the time to chat with WhatCulture about his organization, how his stint with the NWA came out, Dusty Rhodes inspiring his promo style, why he has his sights set on Nick Aldis, and more.
Talk a little bit about the charity work you do with Love Alive Inc. and what it's about. How important has all of that been to you over the last decade?
Pope: Above all things we're going to discuss, that is the most important part of Pope and what I do specifically in helping disadvantaged communities and helping with the homeless and kids, proving them with all the tools and book bags and help them achieve academic success. That's what my charity is, the Love Alive Charity over at love-alive.org. You can go over there and read about it. If you're moved to do so, we only ask that you donate a dollar. A dollar helps make a difference in the lives of those individuals and what's so cool about it is that we'll be hitting 10 years come January.
When I get 400 or 500 people standing in a line, we're not feeding them out of a soup truck. We're not feeding them cold cuts. These homeless people gather in the nucleus of homelessness in Jacksonville, Florida. We feed them directly out of Burger King. We take the money that is donated and put it to good use. We have blankets for people who are out on the street, provide them with stuff. We provide everybody with hygiene products and toys for the kids. We have clothes, shoes and the list goes on and on.
How did your involvement with charity work come about?
Pope: It's real simple: When you come from impoverished communities yourself... I wasn't raised in the best of areas. There were times that mom was working two jobs and I love my dad, but he was a tightwad. My mom would leave for work on a Saturday morning and leave money on the kitchen table for one of my brothers to go out to the store and get cereal and milk. As the baby, I would help and go out and get it and walk up to a place called Winn-Dixie. It's the same spot across the street from where I feed the homeless. But as I walk up there, time and time again, you have grown men that are looking at a nine- or 10-year-old boy asking for change.
I'm stepping over people who are on the sidewalk of this store and I always tell people: put yourself in their shoes. Now, everybody's who's homeless doesn't choose to be homeless. We have people in the shelters who are coming from battered relationships when it comes to the women's shelters. They're down there with their kids, standing there for hours just to get a hot meal. I don't think anyone chooses to be homeless. It's that type of mindset that's allowed this Love Alive charity to come together.