"We Want Wyatt" & "CM Punk" Crowd Chants Take WWE Raw Over
Chants for Bray Wyatt and CM Punk intermittently interrupted last night's WWE Raw in Chicago.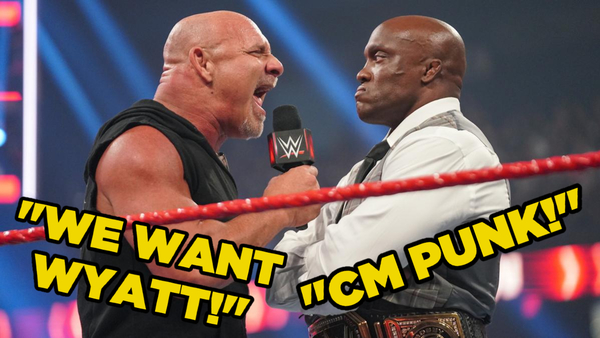 As expected, last night's WWE Raw was intermittently taken over by crowd chants for CM Punk and the recently released Bray Wyatt.
The Chicago crowd was actually chanting for their Punk, their hometown hero, before Raw even began. These specific chants returned during Damian Priest's appearance on Miz TV, while Doudrop wrestled Tamina, and even in the Charlotte Flair vs. Nikki A.S.H. main event, which drew "this is awesome" chants later on.
Wyatt's name was also on the show, with the crowd firing up its first notable "we want Wyatt!" chant during Bobby Lashley and Goldberg's show-opening in-ring segment.
None of this should come as a surprise. Raw was in Chicago, a city that has never been shy of voicing its opinions at shows, regardless of whether or not they fit WWE's narrative. Wyatt's sacking sparked a huge, passionate reaction last week, so the audience was always gong to react to that, and "CM Punk" chants have been a go-to act of wrestling rebellion since 2014. That Phil Brooks is on the verge of debuting for AEW likely intensified them too.
The crowd also chanted for Becky Lynch during Charlotte Flair's in-ring promo, though Flair did a good job of shutting them down, claiming that she, herself, was the reason the building had sold out.
Create Content and Get Paid
---