4 Ups & 3 Downs From AEW Dark (Jan 21)
Jurassic Express spark a significant upturn for AEW's web series.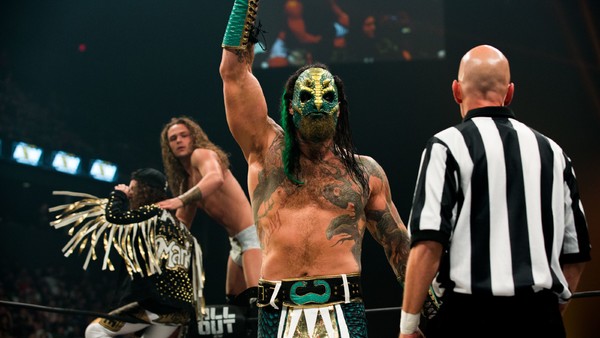 AEW completionists who found last week's janky episode of Dark tough to watch will be relieved by the latest show, which came in at a shade under 30 minutes. This makes the web series a far easier sell, but it's not like AEW had much choice: Fenix was injured while wrestling Joey Janela during last week's tapings. Rey finished the match, though the producers clearly felt they wouldn't be putting their best foot forward by airing it.
While we're still waiting for a proper update on Fenix's condition, the rest of Dark largely delivered. A thinner-than-expected lineup saw Big Swole return to action against the debuting Diamante, with both allowed to show plenty of personality, while Jurassic Express met #STRONGHEARTS in what was ostensibly a tune-up match for their clash with The Inner Circle's Chris Jericho, Ortiz, and Satana on tonight's Dynamite.
It'll be interesting to see what becomes of Dark over the coming months. The show has grown increasingly skippable in recent times, but talk that it could become AEW's second show on TNT suggests that this may be about to change. Regardless, the web series is what it is for now, and last night's was the best of 2020 so far...