4 Ups & 3 Downs From WWE SmackDown (Feb 3)
Sami Zayn = WWE's top babyface; Elimination Chamber setup; SmackDown goes NASCAR.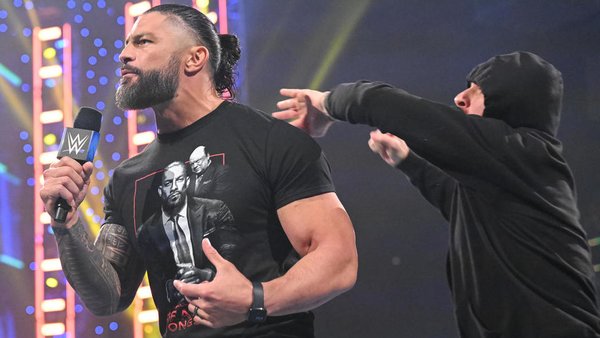 Was Sami Zayn sneaky or brave on this week's SmackDown?
Each individual fan can make their own minds up on that, but this one is swaying towards the latter. WWE had Sami blindside Roman Reigns despite being outnumbered, then both guys set up what'll surely be a hot one-on-one at Elimination Chamber in Montreal on 18 February. Christ, who else is getting Money In The Bank 2011 vibes from that thought?!
This week's show was all about two things: WWE putting a bow on Royal Rumble fallout, then build for the coming Chamber pay-per-view. In the process, Triple H's creative team also established new title contenders, produced some hot tag-team wrasslin', and kept Jey Uso's status hanging in mid-air as a major question mark that'll bleed over into coming weeks of TV.
It wasn't all good though - both women's matches struggled to get the live crowd onside (one felt totally pointless following post-Rumble announcements on Raw), and WWE took an almighty dump on a family feud by trying to rake in some coin from NASCAR. That segment was just unnecessary.
Here are all the 'Ups' and 'Downs'!