4 Ups & 4 Downs From WWE SmackDown (June 11)
Cesaro returns; WWE get very last-minute before Hell In A Cell; SmackDown's undercard sags.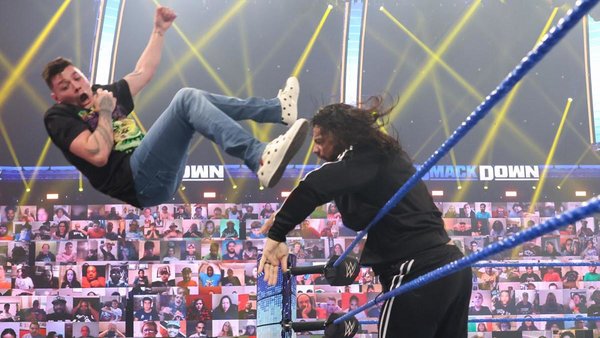 SmackDown's writers are lucky they have stars the quality of Roman Reigns and Rey Mysterio who can pull the nose up on shoddy booking. They really, really are, because shoving some random combo together for a hasty Hell In A Cell match could've been disastrous for the brand and next Sunday's pay-per-view.
As it is, booking Roman like an afterthought is worrying.
Are WWE running out of decent scenarios for the 'Tribal Chief'? In the short term, yes, although it is obvious that Reigns is still enjoying himself and capable of riding this out. Plus, it's not like he and Mysterio will disappoint in-ring come HIAC - it's just...well, they don't have a feud worthy of being locked inside that once-peerless gimmick.
Elsewhere, SmackDown was decidedly mediocre. There are some fun things happening in the tag division (albeit without the champs being involved, which is weird), and Cesaro returned with a vengeance, but the undercard could use some inspiration overall. Interest in the women's division is also evaporating at a quite alarming rate too.
Here are all the 'Ups' and 'Downs' from Friday's latest...