4 Ups & 4 Downs From WWE SmackDown (Sept 29 - Results & Review)
WWE rushes a key story; Fastlane matches added; LA Knight takes the next step.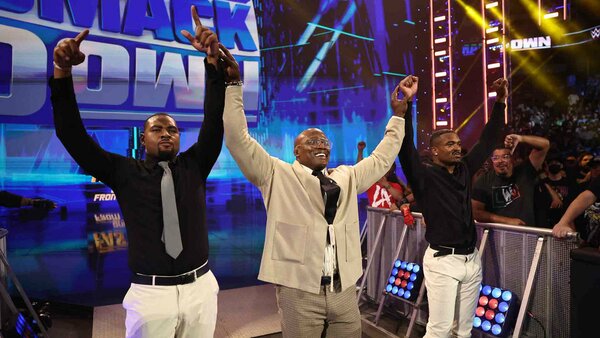 Tension within the ranks of tag-teams and stables is nothing new in pro wrestling, but promotions typically wait until strong relationships have been cemented before rocking the foundations. Otherwise, any teased split story would probably fall flat, right?
Bobby Lashley and The Street Profits: 'Yep!'.
WWE hasn't given the group much of a chance to establish itself before reaching for the tension stuff, and it's all rather...sudden. All's well that ends well, but Montez Ford and Angelo Dawkins struggling to convince Bobby after he'd already recruited them is a trifle unnecessary and doesn't actually make much sense.
Elsewhere on SmackDown, creative hit the repeat button. It was a repeat button worth punching though, if only so rising star LA Knight could take that next step towards main events. He'll team with John Cena at Fastlane after all, and that's a lofty spot for the popular babyface sensation.
Friday's show featured one must-see title clash, more mis-steps on the women's division side, a promising amount of spotlight for one former NXT star and a painful reminder of how quickly things can go south for another ex-developmental favourite.
Here's all the good and bad!