4 Ups & 5 Downs From WWE SmackDown (June 2)
Roman Reigns gets a "new" WWE Undisputed Title belt; The Bloodline takes another turn.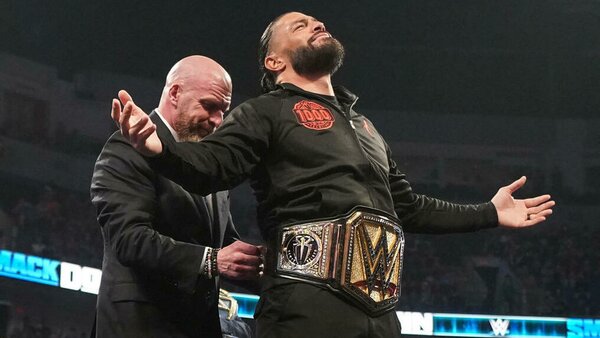 Roman Reigns has a "new" Undisputed Title, and Triple H was the one who strapped it on the 'Tribal Chief' during this week's episode of SmackDown. Why the inverted commas? Well, the belt is a gold-heavy colour palette swap for the WWE and Universal Titles Roman was already carrying around with him.
It's a bit of a missed opportunity for the company, basically.
That's just one of the 'Downs' from a mixed edition of blue brand telly. The title reveal and ongoing Bloodline drama dominated most of the show, but Money In The Bank qualifiers also popped up and a stirring six-man teased more to come in the United States Title scene too.
SmackDown's writers must be thankful for Roman, Solo Sikoa, Paul Heyman and The Usos though - they're really doing most of the heavy lifting for this show every single Friday, but that's nothing new. Reigns' 1,000 day celebrations were punctuated by yet another swerve moment for the group. It was a good one. An emotional rollercoaster, actually.
Here's all the good and bad from WWE's post-Night Of Champions fallout.