4 Ups And 7 Downs From WWE Hell In A Cell 2018
DOWNS…
7. Foley Doesn't Factor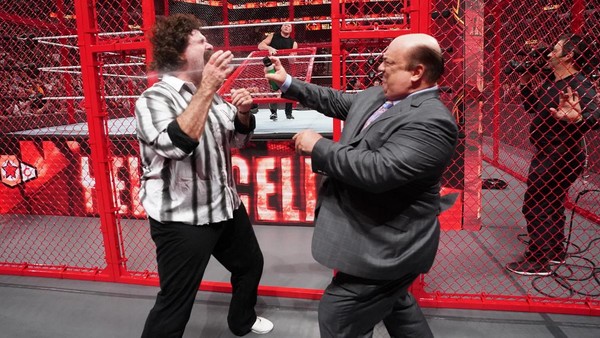 When Mick Foley was announced as special guest referee for the Hell in a Cell match between Roman Reigns and Braun Strowman, it earned negative marks because of how his presence was riveted onto the match, seemingly only to spur some interest in the match because it was the 20th anniversary of his HIAC match against Undertaker.
Sunday, we saw that it was even less than that.
Foley did his duty, albeit with a questionable cadence a couple of times. But he wasn't the story of the match, even with all the extracurriculars going on. In fact, the only way he really factored into the match was when he was taken out of it, by Paul Heyman macing him as Brock Lesnar entered the cell.
So a special guest referee was announced as a surprise six days before the PPV and then was knocked out of the bout by mace. Right.
Scott Carlson
Scott is a former journalist and longtime wrestling fan who was smart enough to abandon WCW during the Monday Night Wars the same time as the Radicalz. He fortunately became a fan in time for WrestleMania III and came back as a fan after a long high school hiatus before WM XIV. Monday nights in the Carlson household are reserved for viewing Raw -- for better or worse.
See more from Scott