43 WTF Moments From WWE RAW (Dec 21)
The Slammys 2015 edition!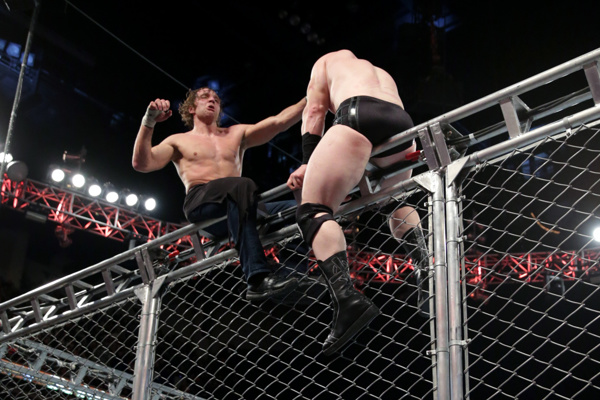 Ah The Slammy Awards... I don't know about you, but heading into this show I couldn't wait for Santa to turn up and give Adam from WhatCulture.com another cringeworthy Christmas moment to add to his seeming never-ending collection. I also couldn't wait for WWE to play on the whole Miss Universe controversy in the most painful way possible, where Santino Marella - who was returning to add his own blend of comedy gold to the show, didn't you know - read out the wrong person, who then brawled with the real winner after having the illustrious trophy taken from them. Oh the joy... The gimmick that is The Slammys presented WWE with the platform to try and create something as compelling as last week's show. The return of Vince McMahon and Roman Reigns' shock WWE World Heavyweight Championship win saw RAW hit unparalleled heights for 2015 and maybe hinted to a brighter 2016 with the former Shield member on top. Then again, the show I'm about to run through could be horrible with a huge spike in the ratings when Seth Rollins - who was advertised for the event despite being very early in his rehabilitation from that devastating knee injury picked up last month - accepted his award for Superstar of the Year... If he didn't win that award there's simply no justice in the world! Here are 43 WTF Moments from the 2015 WWE Slammy Awards...
43. The WORST Pun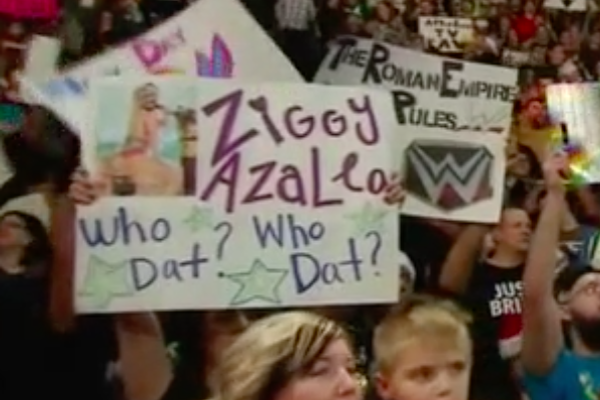 This sign appears to have photoshopped Dolph Ziggler's head onto the bootylicious body of pop star Iggy Azalea - and changed the singer's first name accordingly. I can't work out if this is the best sign of the year, or the worst...