5 Most Insane Things Happening In Wrestling Right Now (April 6)
Burned baby, burned.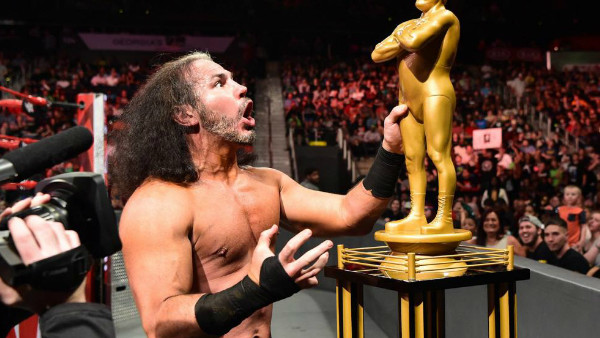 An excerpt of lyrics from the 1976 hit 'Disco Inferno' by the Trammps:
"The heat was on (burnin'), rising to the top, huh!".
The wrestler who named himself after it was only half-right to do so. He wrestled - sorry, was there - at the forefront of WCW's cruiserweight division, but did not rise to the top of pro wrestling. He did join the nWo, but then, so did Virgil and Brutus 'The Barber' Beefcake. Disco Inferno wrestled a match opposite Dean Malenko at Bash At The Beach 1996 which, while quietly good, hardly stands the test of time as a credit to the division's legacy of innovation and excitement. He was a serviceable worker and mildly amusing performer who riled some fans up with his intentionally naff dancing. That was about the extent of his contribution to the world of pro wrestling. If Disco came up today, perhaps Courtney Barnett's 'Pedestrian At Best' would be a more fitting song to name himself after.
To his credit, Disco got over well enough with an act that yielded some entertainment - but this week on Twitter, the heat was on him, which tends to happen when an irrelevant novelty wrestler pipes up like they're f*cking Harley Race...
5. Discothick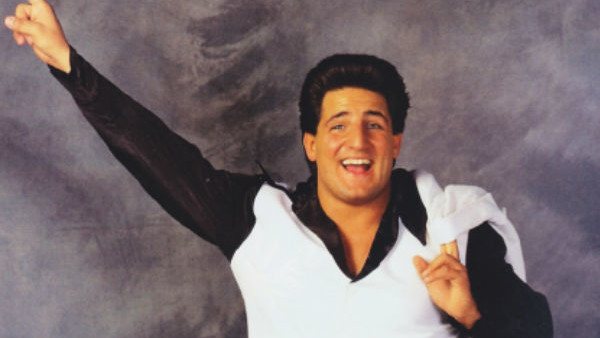 Disco Inferno set wrestling Twitter ablaze by criticising Cody with the old "doesn't know how to work" chestnut for catching a Kenny Omega kick in a freak accident that sliced his eyelid open. Ironically, it was Cody who incinerated Inferno in response that, as advertised, ended a man's career in a single tweet.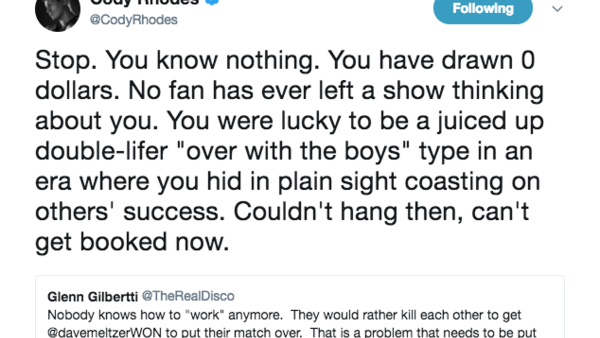 Burn, baby, burn.
If anybody in modern wrestling knows how to work, it's Cody: the man has reinvented himself from Stardust, New Generation WrestleCrap Extraordinaire, to the pristine Machiavellian don of Independent wrestling, and he did so by doing more with the space between moves than with the increasingly dangerous moves themselves in matches far more understated than the norm. He sold merchandise, furthered the best storyline in wrestling right now, and developed his next-level heel character with a single transgressive t-shirt design this week. That is working.
Cody's was on fire generally throughout the weekend. He irreverently and hilariously used British verbiage to end a troll ("Viral, mate. Viral") and must be on a promise, having reassured his wife Brandi that she doesn't need make-up.
There is an argument to be made that the aforementioned "norm", the modern style at which New Japan in particular excels, is unsustainable - but should a man who never really made it be making it? Disco didn't even watch the show in question (NJPW Sakura Genesis), which should, if it were needed, underscore his lack of credibility. If he had, he'd have taken greater offence at a certain spot involving Will Ospreay that we will cover momentarily...