5 Theories About What The Undertaker Whispered In Bray Wyatt's Ear
Did the Undertaker endorse Bray Wyatt at Raw Is XXX - or is something deeper in play...?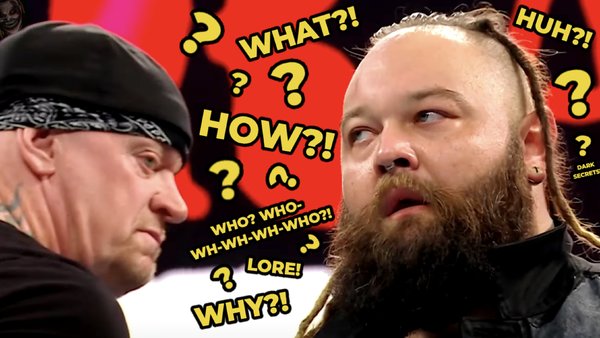 The Undertaker and Bray Wyatt have already shared a short - and frankly counterproductive - history.
They first wrestled one another at WrestleMania 31 in a slow, plodding match that did not compensate for its middling action with anything approaching spectacle or gravitas. The dual "symbolism' spot, in which 'Taker sat up at the same time as Wyatt did his Exorcist bit, was cute enough - but the brief visual suggestion that Wyatt was 'Taker's equal vanished by the finish. 'Taker pinned Wyatt clean, and while he didn't quite treat Wyatt as a lump of tobacco chewed up and spat out on the floor, he didn't treat him like a real 'Streak' opponent, either.
It was time for 'Taker to do business, particularly since it was clear from WrestleMania XXX that he was as cooked as his kayfabe parents, but he didn't (or wasn't allowed).
'Taker (alongside Kane) also defeated Wyatt and Luke Harper at that year's Survivor Series, at which point it became clear that WWE perceived that Wyatts as nothing more than monsters of the week.
But do they - following the events of last night's Raw Is XXX - share a future...?
5. "You're The Next Undertaker"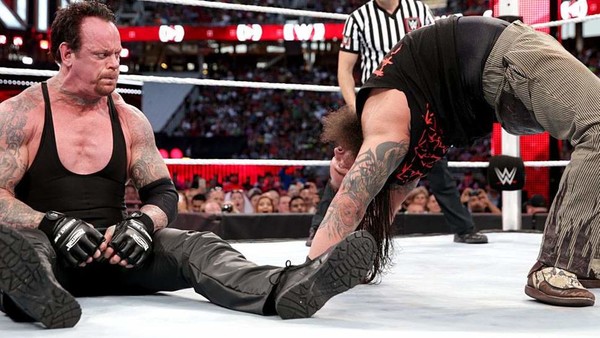 As mentioned, WWE, at least prior to his 2022 return, perceived Bray Wyatt as a monster of the week type to the real stars. Wyatt was Kamala, only with - given that Kamala could not pin his opponents properly - a slightly higher wrestling acumen.
'Taker reportedly thought more of Wyatt than Vince McMahon; according to WrestleVotes, 'Taker told Vince in the aftermath of WrestleMania 31 to "take care of" Wyatt. Vince of course went on to treat Wyatt less like a family heirloom and more like a piece of dig sh*t that had found its way onto the sole of his shoe, but Vince is no longer in charge of WWE creative.
For now, anyway.
Wyatt seemed over-awed by whatever it is that 'Taker said to him at Raw Is XXX, looking nervous and humble. He also nodded, imperceptibly, as if agreeing to take on some profound responsibility. This was a clear means of endorsing Wyatt; if the Undertaker didn't explicitly say "You're the next Undertaker", he said words to that effect. Perhaps the actual words used were less significant than the framing of the message.
Or perhaps, studying 'Taker's body language, he wasn't so glowing with his praise...