5 Ups & 2 Downs From AEW Dynamite Grand Slam 2023 (Results & Review)
On a special Dynamite, MJF and Eddie Kingston lift the black cloud that cloaked New York City.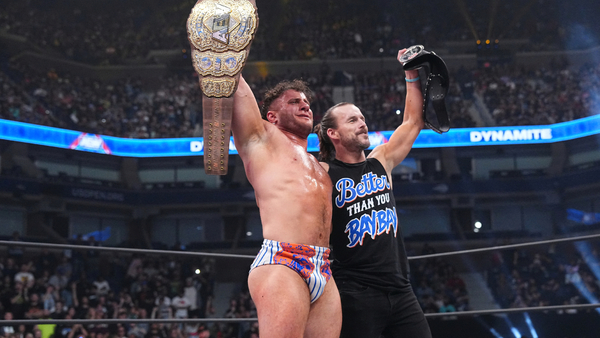 AEW had to accomplish the following at Grand Slam 2023:
MJF had to defeat Samoa Joe after convincing the crowd that he was going to lose - basically work the idealised television pro wrestling match and extract drama from a predictable scenario.
Jon Moxley had to wrestle an ass-kicking match. Nothing less. With no long-term arc even hinted at as International Champion, his run risked a diminished return of his predecessor's. Orange Cassidy wrestled excellent matches weekly, and threaded everything together with a body that had begun to fail him. Thus far, Mox's defences have peaked at "fine".
Chris Jericho and Sammy Guevara had to wrestle a great match - one that fans weren't especially mad about going in - and make you want to see a more violent sequel at the same time.
Saraya, bluntly, had to do something worthehile. The entire division has been warped to her role since last year's event. She failed as a babyface, and so she turned heel and became the fulcrum on which everything else hinged thereafter. It was time for Saraya to provide a return on the investment.
Eddie Kingston had to defeat Claudio Castagnoli. Long-term storytelling for the sake of it has rendered AEW, all too often, a meandering, not particularly vital experience. The Mad King had to finish his story.
Did these things happen - and did Grand Slam generate the atmosphere necessary to lend the event the special feeling missing from AEW's recent TV output...?