5 Ups & 2 Downs From WWE WrestleMania SmackDown (Mar 31)
Downs...
2. Obvious And Forgettable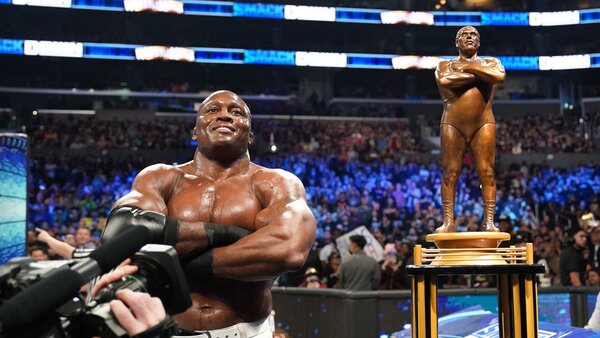 Let's be honest about two things here.
Firstly, neither WWE nor wrestling fans care about the annual Andre The Giant Memorial Battle Royal these days. It used to be a nice excuse to get more folks a WrestleMania payday, but now it's a mediocre pre-supershow TV distraction at best. Hopefully, writers will bench it in 2024.
Second, winning the thing won't rank up there as some significant achievement when Bobby Lashley retires and looks back over his company career. Everyone knows this was almost an apology to Lashley for his match vs. Bray Wyatt being scrapped; whilst he will still get a spot at 'Mania due to the open challenge thing, it's all very low-key.
Positive reactions from the live crowd towards LA Knight were nice, but that was nowhere near enough to make this an 'Up'. WWE probably made the winner far too obvious by giving Bobby the full entrance treatment too.
Next.