5 Ups & 5 Downs From WWE Raw (22 May - Results & Review)
Cody suffers at Brock's hands while fans suffer an otherwise tepid go-home Raw.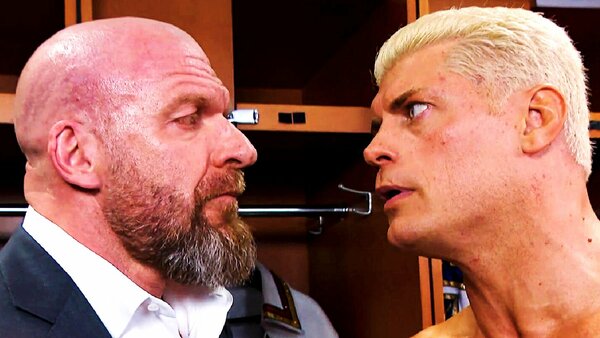 How do you properly evaluate a show where two of the three marquee matches have solid-to-really-good builds, and the third – arguably the most significant match – is a bona fide turkey?
In theory, the new World Heavyweight Championship should be the biggest match on the card. They literally are crowning a first-ever world champion for a new title that is being portrayed as on par with Roman Reigns' title(s). But the build has been awful, with the unveiling being lambasted by many, the tournament rushed through in one week, and the resulting "storyline" relegated to a taped interview spread out over two weeks and a talk show segment.
That poor build hung over Raw Monday night, even as Cody Rhodes (once again) did his damnedest to make you care deeply about wrestling. The American Nightmare's encounters with Brock Lesnar on Raw were incredible, visceral moments that left you wanting to see the conclusion to that story.
And of course, there's Kevin Owens & Sami Zayn, who manage to elevate even mediocre material. Monday was not their week on the mic, but they backed it up in the ring later, so we can give them a pass.
But Trish Stratus and Becky Lynch were definitely off Monday night, closing out their uneven story on a down note heading into Night of Champions. And Mustafa Ali just got blown off, making his Intercontinental Championship match seem even more irrelevant than it already did.
As for Raquel Rodriguez/Sonya Deville, Finn Balor/Shinsuke Nakamura and Dominik Mysterio/Apollo Crews, they were there. There really isn't much to say about those matches, positive or negative, so they get relegated to the cutting room floor.
If not for Cody, this show would have been a bomb.
Let's get to it…