5 Ups & 8 Downs From AEW Dynamite (Jan 8)
Big Jon Moxley/Inner Circle segment highlights a dysfunctional, misfiring episode.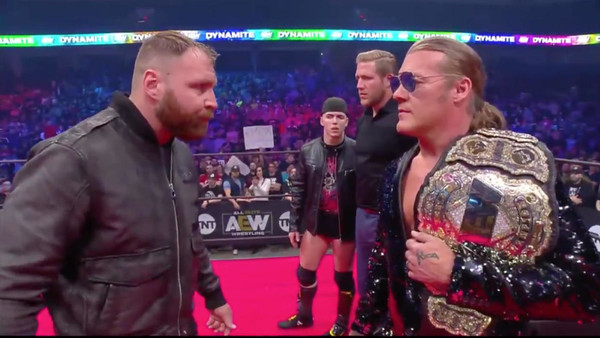 AEW rebounded with aplomb on 1 January, batting recent criticisms back with one of the strongest Dynamites yet after being slaughtered by NXT in their last head-to-head battle, bringing hopes of an upturn after losing more than half their televised audience since launching in October.
The numbers were strong, with 967,000 viewers tuning in. Sure, beating NXT's clip-heavy year-end award show meant next to nothing, but the recovery from 683,000 on 18 December most certainly did and last night, with the Wednesday Night Wars back in full effect, AEW had a chance to build on that momentum.
This article's title should indicate how they fared in this regard.
It was a night that promised much, with Jon Moxley set to answer Chris Jericho's Inner Circle invitation, Cody's response to MJF's outrageous Revolution match stipulations, a Women's World Championship bout pitting Riho against Kris Statlander, and the Rhodes Brothers facing off against the Lucha equivalents. Elsewhere, Christopher Daniels wrestled Sammy Guevara and the malfunctioning Hangman Page/Kenny Omega met wrestled Private Party.
A very disappointing night, unfortunately. Dynamite just didn't sizzle like it did last week. Let's break down why...