5 Ups And 3 Downs From Last Night's WWE NXT (May 4)
The Samoa Joe era begins!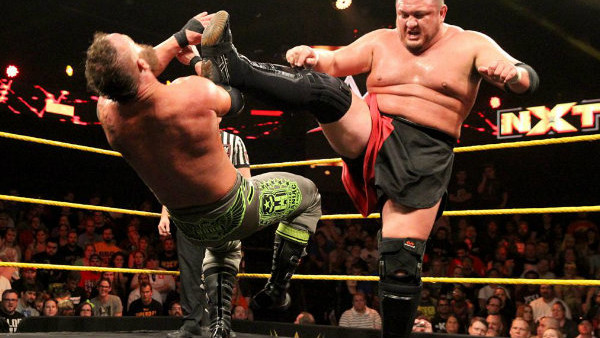 NXT was back at Full Sail University for a brand new set of tapings, and leading the charge was NXT Champion Samoa Joe. Joe won the title from Finn Balor at a Lowell, MA, house show two weeks ago, and this episode of NXT TV marked his first appearance with the belt.
Furthermore, this episode featured the NXT (and WWE) debut of former TNA Champion Eric Young. Both Young and former partner/rival Bobby Roode left TNA in March over money concerns, and were rumored to be heading to WWE. Roode made an appearance at NXT TakeOver: Dallas (though he hasn't signed with the company yet), and it was Young's turn on the show that aired yesterday.
Joe and Young were longtime co-workers in TNA, and WWE played off the history between the two men by having Young confront the NXT Champion. That led to a match between them which headlined the broadcast.
Other stars of the brand, such as Austin Aries, The Revival, and Nia Jax were in action as well, rounding out an hour of wrestling that felt like it got NXT back on the road to the brand's next major show.
Still, it wasn't all smooth sailing - here are 5 ups and 3 downs from last night's episode of NXT.
Scott Fried
Scott Fried is a Slammy Award-winning* writer living and working in New York City. He has been following/writing about professional wrestling for many years and is a graduate of Lance Storm's Storm Wrestling Academy. Follow him on Twitter at https://twitter.com/scottfried. *Best Crowd of the Year, 2013
See more from Scott