5 Ups And 3 Downs From UFC 249
Who came away victorious and following a night of high-level mixed martial arts action.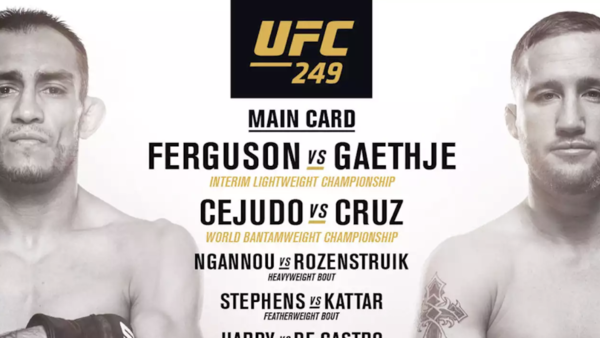 Just when you thought you had the answers, the world of mixed martial arts changes the questions. It was an incredible night of fights inside the VyStar Veterans Memorial Arena, as we witnessed two incredible UFC title bouts that offered violent and decisive outcomes.
However, they did far more than that. The results of these two bouts - and many more on this card - will be felt for months as we got upsets, shocking moments and conundrums created by bottle necked divisions. If you like a slither of drama alongside your mixed martial arts action, then UFC 249 provided plenty of it
Fight-finishing phenom, Justin Gaethje, came into the main event as an underdog against vicious 155lber, Tony Fergsuon, but walked out of the Octagon as the first man in eight years to vanquish El Cucuy. Henry Cejudo shocked the entire MMA world by announcing his retirement from competition after his victory over Dominick Cruz, plus so much more in terms of moments that stood out from one of the biggest and most anticipated fight cards of the entire year.
Let's take a look at all the best - and worst - moments from the latest card in the books...
8. Down - Khabib Vs. Tony: The Fight That Never Was
Like many other mixed martial arts fans out there, we have also been ruminating on the potential battle between Khabib Nurmagomedov and Tony Ferguson for years.The body of work of these two lightweight greats is frankly frightening and because of that, they've been on a collision course with each other since.
However, now that the dust has settled, we may never get the bout that we all wanted to see so much. It's not because Tony Ferguson isn't a good fighter or because he can't win enough fights to earn a title shot again. It's because both men had gained so much momentum within their weight class that they were standouts in a division of killers.
We might get it in the future and it could still be just as thrilling and as entertaining as we all hoped it would be. However, without Ferguson's streak behind it, it does lose some of the importance that was once placed on it. The fight game is a cruel and unapologetic world.